"Time wasted at the beach is time well spent." This timeless quote perfectly encapsulates the allure of the beach – a place where hours can drift by unnoticed as you soak up the sun, listen to the rhythmic crash of the waves, and feel the sand beneath your toes.
The allure of the coast is always within reach for residents and tourists in Oakland, California. If you're not interested in heading south and exploring islands, fret not, as the Bay Area presents a myriad of beaches, each boasting its own distinct combination of stunning scenery, leisure pursuits, and tranquil moments to unwind.
In this comprehensive guide, we will explore the 10 best beaches near Oakland, CA, immersing ourselves in the coastal bliss that these seaside havens have to offer. Whether you're a sun worshipper, a water sports enthusiast, a nature lover, or simply someone seeking a tranquil escape, you'll find a beach that calls to you.
1. Alameda
Alameda Beach is a jewel of the Bay Area that combines the charm of a small-town beach with the grandeur of the Bay's sweeping views. Encased within the city of Alameda, it is only a 15-minute drive from Oakland, making it a convenient day-trip destination.
Featuring a 2.5-mile stretch of clean, sandy shoreline, the beach is a haven for families, casual swimmers, and water sports enthusiasts. Kids will delight in building sandcastles and combing them for shells, while adults can enjoy a leisurely swim in the calm, flat waters.
The gentle waves make it a hotspot for wind and kite surfing. You'll often see colorful sails dotting the horizon, painting a lively scene against the backdrop of the cityscape.
Adjacent to the beach is a well-maintained park with picnic tables, barbecue pits, volleyball courts, and a grassy area perfect for frisbee or catch. The park's concession stand offers refreshments and rents equipment for windsurfing and kiteboarding.
2. Albany
Albany Beach, situated in the Eastshore State Park, is a tranquil destination that's often overlooked, yet it offers a unique blend of natural beauty and recreational activities. Just 30 minutes north of Oakland, it provides a scenic and serene escape from the urban hustle and bustle.
This stretch of sandy coastline, dotted with dunes and native grasses, offers a wide expanse of sand for sunbathing, picnics, and sandcastle building. The waters of the San Francisco Bay are typically calm and cool, making them ideal for a refreshing dip on a hot summer day.
However, swimmers should be aware of the changing tides and currents. What sets Albany Beach apart is its popularity among dog owners.
The beach features a significant off-leash area where dogs can roam free, frolic in the sand, or splash in the waves. It's not uncommon to see joyful canines bounding across, chasing frisbees, or engaging in friendly wrestles.
For those with four-legged friends, the beach is a delight, and even those without pets will be charmed by the sight of these happy hounds.
3. Baker
Imagine lounging on the sand, the mighty Pacific waves lapping at your feet, while the iconic Golden Gate Bridge looms majestically in the background. This isn't a scene from a postcard—it's a typical day at Baker Beach.
Only a 30-minute drive from Oakland, Baker Beach, located in the southwestern corner of the Presidio in San Francisco, offers some of the most stunning views you can find in the Bay Area. Stretching over a mile, it features a vast sandy expanse perfect for sunbathing, picnicking, or simply relaxing while soaking in the stunning scenery.
Though the Pacific waters can be chilly and the currents strong (not ideal for swimming), the beach's breathtaking views more than makeup for it. One of Baker Beach's highlights is its unrivaled panoramic views of the Golden Gate Bridge and Marin Headlands.
On a clear day, you can see the bridge in all its glory, its rust-red suspension cables stark against the azure sky. The Marin Headlands, with their rugged cliffs and verdant vegetation, provide a beautiful contrast to the urban architecture of the bridge.
This unique combination makes Baker Beach one of the most photographed locations in San Francisco. It's a dream come true for both professional and amateur photographers.
4. Venice
Venturing down the coast from Oakland, within the charming seaside town of Half Moon Bay, you'll find Venice Beach. This hidden gem offers an inviting sense of peace and tranquility that can be hard to find at more crowded Bay Area beaches.
Enclosed by towering cliffs and fronting the vast Pacific, Venice Beach offers a serene retreat just over an hour's drive from Oakland. It is characterized by its broad sandy shore that, even on busier days, allows you ample space to carve out your own quiet corner.
Whether you're laying out a beach towel to catch some rays, setting up a picnic, or building a sandcastle masterpiece, you'll appreciate the room to breathe. One of the beach's defining features is the dramatic cliffs that encase it.
Providing a stunning backdrop, they lend an air of rugged isolation that adds to the beach's secluded feel. These cliffs also serve as excellent vantage points.
A climb rewards you with panoramic views of the coastline, the ceaseless ocean, and, on clear days, a glimpse of the distant Point Montara Lighthouse.
5. Crown Memorial State
Located on the picturesque island city of Alameda, Crown Memorial State Beach is a beloved local treasure. Only a short drive from Oakland, it is renowned for its warm sandy shores, shallow and calm waters, and panoramic views of the San Francisco skyline.
The beach's welcoming atmosphere and abundant recreational activities make it an ideal destination for families, nature enthusiasts, and sun-seekers alike. Crown Memorial State Beach extends over a stretch of 2.5 miles, offering ample space for beachgoers to unwind and enjoy the natural beauty.
Its warm, fine-grained sand is perfect for sunbathing, building sandcastles, or engaging in a friendly game of beach volleyball. The waters here are typically calmer and warmer than many other Bay Area beaches, making them perfect for swimming and wading.
It's an idyllic setting where you can relax to the gentle rhythm of the lapping waves and the occasional call of a passing seabird. The beach provides breathtaking views of the San Francisco skyline, the Bay Bridge, and the surrounding Bay area.
Whether it's the city's silhouette illuminated by the setting sun or the twinkling lights reflected in the tranquil waters at dusk, the view is a continual source of awe and wonder.
6. Muir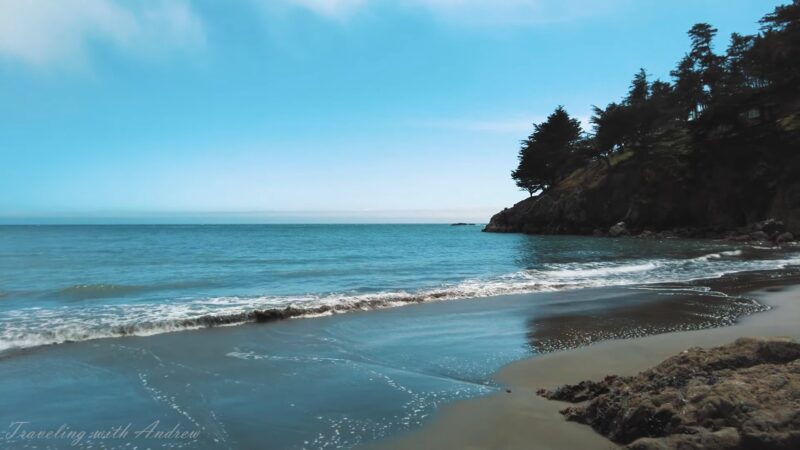 Journey north from Oakland, crossing the Golden Gate Bridge into Marin County, and you'll discover the secluded haven known as Muir Beach. This cozy cove, cradled by rugged cliffs and cloaked in lush vegetation, is a part of the Golden Gate National Recreation Area (GGNRA).
It offers a perfect blend of land and sea experiences that both nature lovers and adventure seekers will appreciate. Muir Beach provides an intimate experience with its compact sandy cove where you can bask in the sun, build sandcastles, or picnic while enjoying the sweeping views of the Pacific Ocean.
Please note that swimming can be risky due to the strong undertow and cold water temperatures, but tide pool explorers will love searching for sea stars, crabs, and other marine life at low tide. One of the most notable features of Muir Beach is its surrounding environment.
The beach sits at the mouth of Redwood Creek, which meanders through the iconic Muir Woods before reaching the Pacific. In winter months, visitors might witness one of nature's most extraordinary spectacles as Coho salmon make their way upstream to spawn.
This annual migration transforms the creek into a bustling aquatic highway, offering a fascinating glimpse into the cycle of life. The area surrounding Muir Beach is laced with an array of hiking trails that traverse diverse landscapes.
Hikers can choose from beach strolls, creek-side ambles, or more strenuous hikes up to hilltop vistas. One popular choice is the Muir Beach Overlook Trail, which offers breathtaking views of the coast, the ocean, and, on a clear day, San Francisco.
The Dias Ridge Trail, on the other hand, provides a more challenging trek with panoramic views of the Pacific and Mount Tamalpais.
7. Half Moon Bay State
Just a scenic drive south of Oakland lies the coastal paradise of Half Moon Bay State Beach. Here, sunbathers, picnic enthusiasts, and fishing lovers will find their slice of coastal bliss, where the Pacific's azure waves meet the golden California sands.
Half Moon Bay State Beach offers a diverse range of activities for everyone. The broad sandy expanse is perfect for soaking up the sun, engaging in a friendly game of frisbee, or building sandcastles with the kids.
The beach's spacious picnic areas, complete with tables and barbecues, are perfect for enjoying an alfresco meal with a stunning ocean backdrop. If you're into surf fishing, the waters here are teeming with various species, offering a great spot to cast your line.
Nature lovers will appreciate the unique ecosystem that thrives in the vicinity. During springtime, the surrounding bluffs burst into color with a variety of wildflowers.
The beach is also home to various bird species, making it a delightful spot for birdwatching.
8. Keller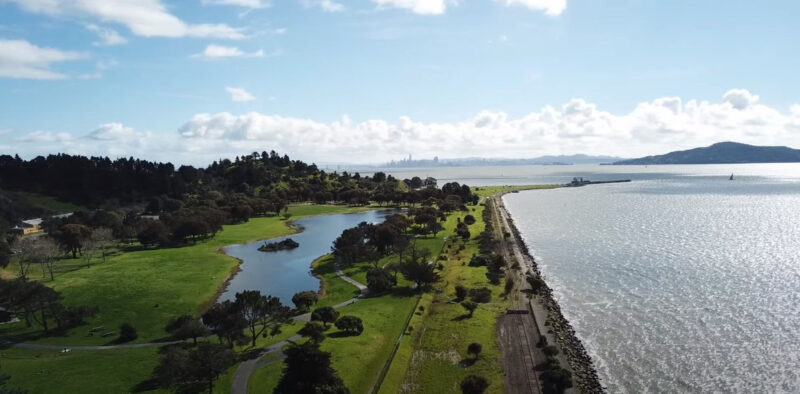 Tucked away in the Point Richmond district, Keller Beach is a hidden gem in the bustling Bay Area. This delightful sandy beach offers a serene retreat from the city's hustle, providing a tranquil setting where the gentle sounds of lapping waves replace urban noise.
Keller Beach is relatively small, but what it lacks in size, it more than compensates for in charm. Its sandy shore, lapped by the gentle waters of San Francisco Bay, is perfect for sunbathing, reading a book, or indulging in games on the sand.
Children will enjoy building sandcastles while adults can relax and soak in the calming ambiance. One of the beach's unique features is its remarkable views.
From its vantage point, you can appreciate breathtaking panoramas of San Francisco Bay, with the Richmond-San Rafael Bridge stretching across the water. The sight of sailboats drifting lazily on the bay against a backdrop of the bustling city skyline is a visual treat that is hard to resist.
9. Pacifica State
Pacifica State Beach, located to the south of San Francisco, is a popular destination for both locals and tourists alike. Known for its consistent surf conditions, it has become a favorite spot among the surfing community.
The beach's crescent shape provides a wide expanse of sand, making it an ideal location for various activities such as swimming and sunbathing. It is not only known for its surf but also for its rich marine life.
The tide pools that form along the beach are teeming with various marine creatures, providing visitors with an opportunity to explore and learn about the local ecosystem. These tide pools are a fascinating sight during low tide, revealing a variety of sea creatures such as starfish, crabs, and sea anemones.
Adding to the charm of Pacifica State Beach is the Taco Bell Cantina located right on it. This is one of the few fast-food restaurants in the world that offers beachfront dining.
10. Black Sands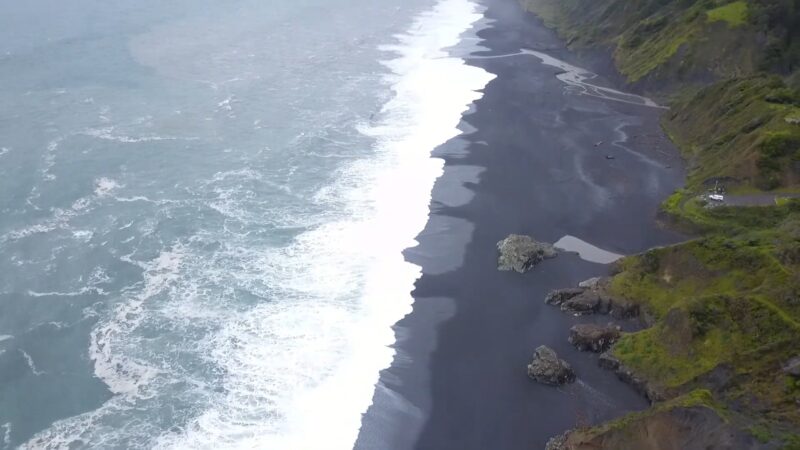 Black Sands Beach, located in the Marin Headlands, is a secluded and picturesque beach known for its characteristic dark sand. The beach offers stunning views of the Pacific Ocean and the surrounding cliffs.
It's a great spot for sunbathing, picnicking, and hiking. Black Sands Beach gets its name from the dark, coarse sand that covers its shore, a result of the erosion of the surrounding cliffs.
The beach is part of the Golden Gate National Recreation Area, a park that spans over three counties and includes numerous historical and cultural sites. Near Black Sands Beach, you can explore other attractions in the Marin Headlands, such as the Point Bonita Lighthouse, the Marin Headlands Visitor Center, and various hiking trails.
FAQ
Are these beaches easily accessible?
Yes, most of these beaches offer paid or free parking lots and are accessible via public transportation. Some beaches also provide beach wheelchairs for wheelchair users.
Can I find tide pools at these beaches?
Yes, at low tide, you can find tide pools at Half Moon Bay State Beach if you know where to look.
What is the best way to get to these beaches from Oakland?
The best way to get to these beaches from Oakland varies. For some, like the San Francisco beaches, you'll cross the San Francisco-Oakland Bay Bridge. Others, like those in Marin County, are less than an hour away from Oakland via the Richmond San Rafael Bridge.
Are these beaches safe for swimming?
Yes, many of these beaches are safe for swimming. However, it's always important to check local conditions and warnings, as ocean currents and tides can vary.
Last Words
In conclusion, the Bay Area is home to a diverse array of coastal gems, each offering unique experiences and attractions. From the family-friendly Alameda and the dog-friendly Albany to the iconic vistas of Baker and the tranquil seclusion of San Quentin, there's a spot for every preference and activity.
Each location has its own charm and attractions, making the Bay Area a fantastic destination for lovers of the coast. Whether you're a local or a visitor, these coastal spots promise a delightful day of seaside bliss.