After spending years as a seasoned tourist guide and an inveterate traveler, I'm often asked, "What's your favorite destination?" This, as you might guess, is like asking a parent to pick their favorite child.
However, I can't help but have a special affinity for Oregon's coastline near Astoria. And why, you might ask? It was on these very beaches where my love for travel was truly ignited.
Today, I take you along the winding Pacific coastline, sharing my pick of the ten best beaches near Astoria, Oregon. Rich in beauty and history, these beaches are more than just sand and surf. Every beach has a story to tell, and I hope to share them with you. From the hidden, rugged coves to the vast expanses of golden sand, the region is a testament to the Pacific North West's breathtaking beauty.
1. Cannon Beach
Cannon Beach, with its iconic Haystack Rock, is a must-visit for any outdoors enthusiast. The monolithic basalt sea stack rising 235 feet above the ocean's surface is a sight to behold. But it's not just about the dramatic landscapes. This place is a sanctuary for diverse wildlife, including vibrant starfish, anemones, and the ever-charming puffins.
To truly savor the experience, catch the sunset on the western horizon. As the sky paints itself in hues of gold and crimson, Haystack Rock casts an imposing silhouette against the fading light. The beach's low tides reveal intriguing tide pools, turning your walk into an interactive nature expedition. A magical mix of natural beauty and adventure, this location is sure to leave you spellbound.
2. Indian Beach
Tucked away in Ecola State Park, Indian Beach offers the tranquility that you can't always find on more popular beaches. This location has long been a secret haven for surfers, with consistent swells rolling off the Pacific. Be it the allure of the surf or the natural charm, this place embodies the spirit of the Pacific North West.
The nearby Ecola State Park offers hiking trails with spectacular views of the Pacific Ocean. The beach itself is a treasure trove of marine life, with tide pools filled with hermit crabs, starfish, and sea urchins. Visit it if you seek an offbeat, adventurous, and serene experience.
3. Gearhart Beach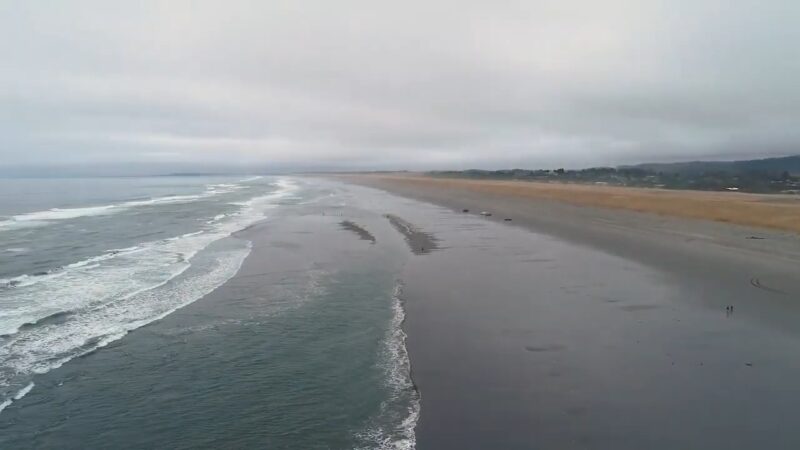 Gearhart Beach is an ideal family spot with its broad sandy expanse and gentle waves. It is unique as it allows vehicles on the sand, turning it into an expansive playground for beach games and picnics. The nearby town of Gearhart adds to the charm with its quaint boutiques and bakeries.
On clear days, this location offers majestic views of the Tillamook Head Lighthouse. It's also a favored spot for clamming, with the summer season presenting an abundant clam population. Whether you're up for a family picnic or a tranquil stroll, Gearhart caters to all.
4. Seaside Beach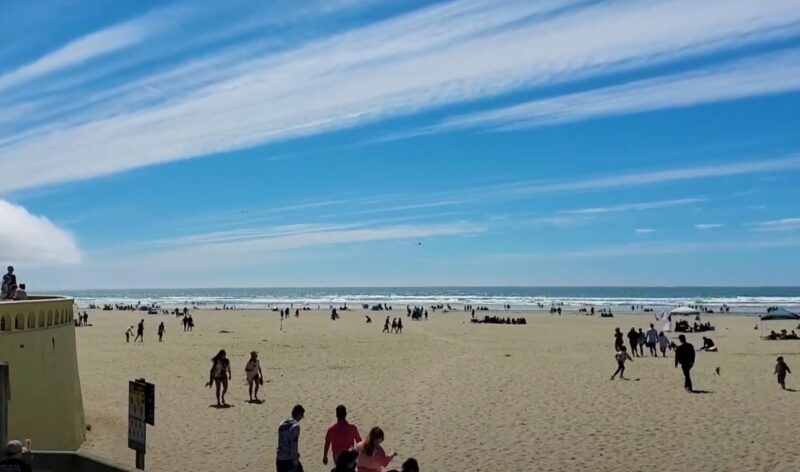 Seaside Beach is famous for its recreational activities. Its two-mile-long promenade buzzing with shops, restaurants, and arcades perfectly compliments the expansive sandy beach. This is the place for those seeking a lively atmosphere with plenty of attractions to enjoy.
The annual sandcastle contest is a huge highlight, drawing artists and spectators from far and wide. Seaside's nearby aquarium offers a chance to feed seals and explore local marine life. Whether you're a volleyball enthusiast or a sandcastle architect, Seaside is the place to be.
5. Oswald West State Park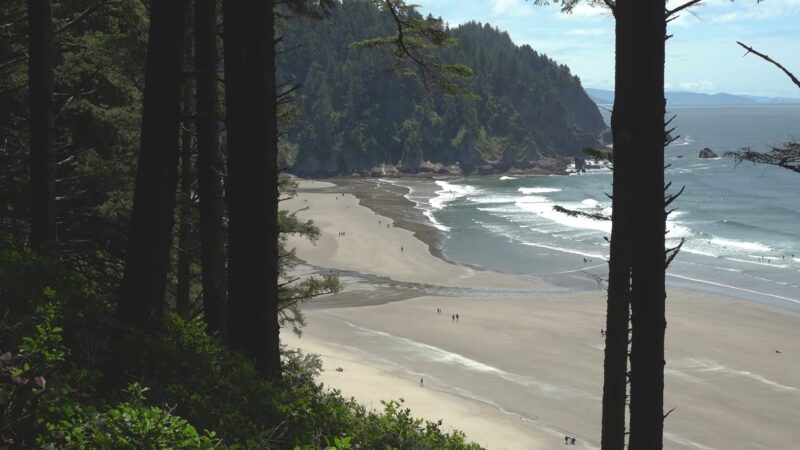 Oswald West State Park is a nature lover's paradise. Home to Short Sand Beach, or "Shorty's," as locals affectionately call it, this park offers a lush, temperate rainforest leading to a secluded sandy cove. This beach, well protected from the wind, is an ideal spot for a relaxing day out.
Shorty's is also a popular surfing spot, especially among beginners. The park offers several hiking trails leading to breathtaking viewpoints. Be sure to follow the Cape Falcon trail, which offers panoramic views of the coastline, including the distant Cape Blanco, on clear days.
6. Fort Stevens State Park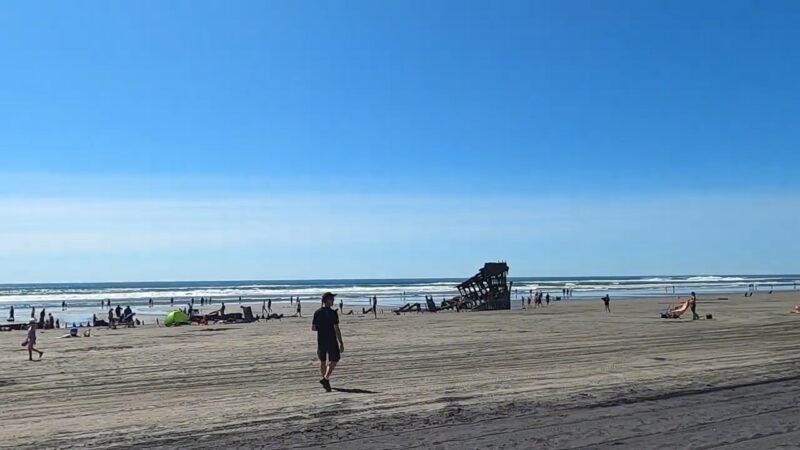 Fort Stevens State Park, steeped in history, hosts a multitude of recreational activities. The beach near the Peter Iredale shipwreck, a four-masted steel barque sailing vessel that ran aground in 1906, is a prominent highlight. The skeletal remains of the ship offer a hauntingly beautiful backdrop against the crashing waves.
In addition to the beach, the park offers camping, freshwater lake swimming, trails, and a historical military fort to explore. Its wetland area is a treat for birdwatchers, with numerous migratory birds stopping over. Fort Stevens promises an immersive experience combining history, nature, and adventure.
7. Manzanita Beach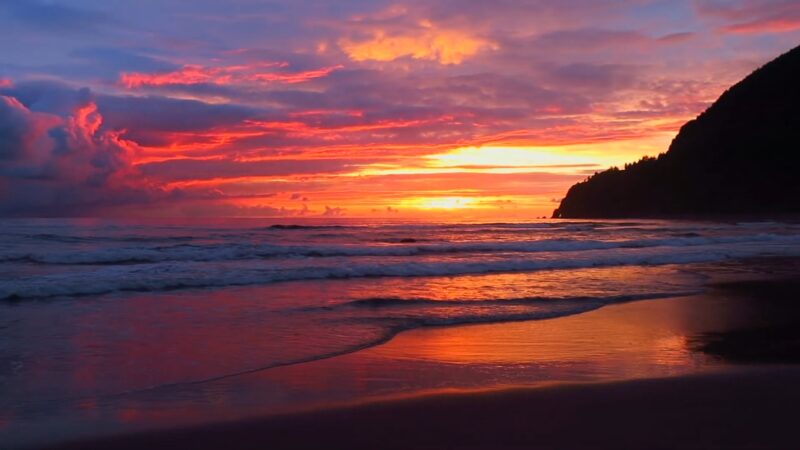 Manzanita Beach, a seven-mile stretch of sand, is an ideal spot for those seeking quiet introspection. The relatively low crowds offer a sense of peace and solitude, making it perfect for long, contemplative walks or a relaxing day of reading.
The place also offers an awe-inspiring view of Neahkahnie Mountain. Local folklore suggests a hidden pirate treasure buried somewhere along its verdant slopes. Whether you're treasure hunting or simply soaking in the serene atmosphere, Manzanita Beach is a hidden gem worth exploring.
8. Rockaway Beach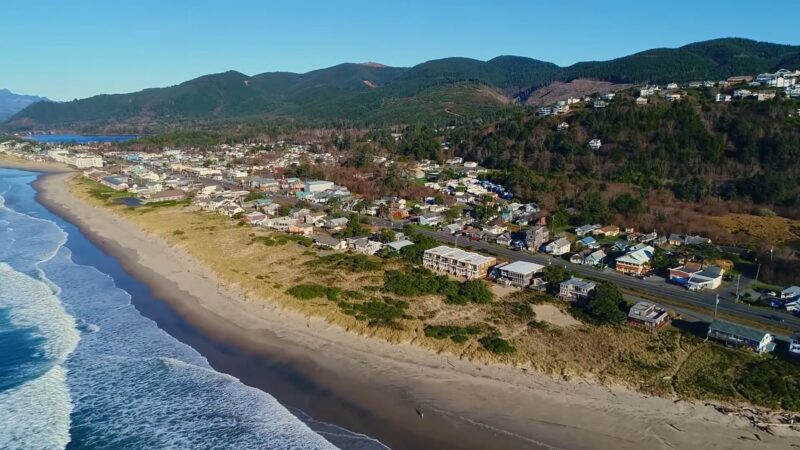 Rockaway Beach, with its seven-mile sandy stretch, is a family favorite. It is known for its Twin Rocks – two 100-foot rock formations standing in the sea. During low tide, kids (and adults, too!) will love exploring the tide pools teeming with marine life around these structures.
Rockaway is also known for its annual Kite Festival. The sky gets splashed with colors as kites of all shapes and sizes take flight. Add to that the bonfires, clamming, and crabbing opportunities, Rockaway offers a quintessential Oregon Coast experience.
9. Arcadia Beach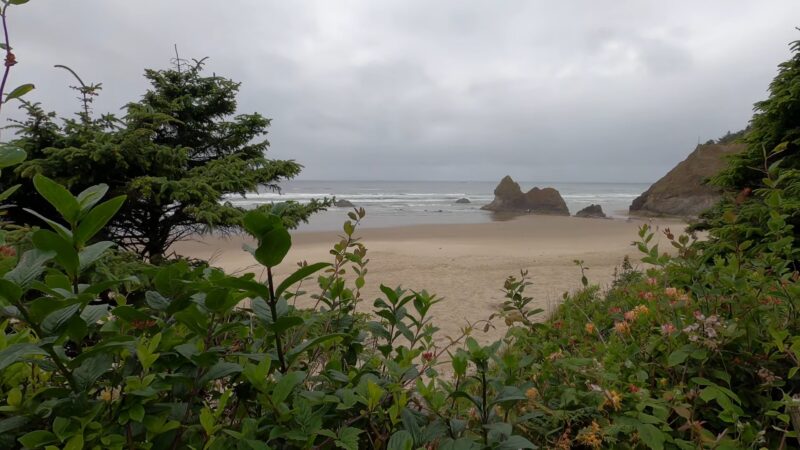 Arcadia Beach, nestled between Cannon Beach and Arch Cape, is a favorite among locals. This intimate place, with its rocky shoreline, tide pools, and small waterfalls, offers a unique coastal charm. With a lesser crowd, it's an ideal spot for a quiet day or a romantic sunset viewing.
Don't miss the opportunity to spot the tide pools' resident life forms, including sea stars and anemones. Also, try to spot the hidden "Treasure Rock," said to have a marking left by Spanish explorers in the 16th century. Arcadia, with its distinct character, is an enchanting stop on your coastal journey.
10. Cape Kiwanda
Last but certainly not least, Cape Kiwanda in Pacific City offers dramatic views of the ocean against towering sandstone cliffs. The beach is known for its giant sand dune, providing both a workout and an exhilarating downhill run. Don't miss the chance to see the Dory Fleet, traditional flat-bottom fishing boats, launching directly from the beach.
Explore the tide pools or watch the brave surfers catching waves next to the Pelican Brewing Company, a perfect spot to wind down and enjoy locally brewed beer. With its stunning views and vibrant atmosphere, Cape Kiwanda is an unmissable gem on Oregon's coast.
Making the Most of Your Time
Know Your Tides
Navigating the Oregon coast requires a keen understanding of the tides. Many of the beaches, like Cannon and Arcadia Beach, have fascinating tide pools that come alive during low tide. Download a tide table app or check the local tide tables online. Always keep an eye on the sea while exploring tide pools, as the incoming tide can quickly cut off access to the shore.
Embrace the Unpredictable Weather
The Pacific North West is notorious for its unpredictable weather. Carry layers to adjust to the changing conditions. A light windbreaker can be a lifesaver against the sudden chilly winds, while a hat or a cap can protect against unexpected sun. Embrace the unpredictable weather as part of your Oregon experience.
Explore Beyond the Beach
While the beaches are undoubtedly the main attraction, don't miss out on the trails and parks nearby. Places like Ecola State Park near Indian Beach or Oswald West State Park offer excellent hiking opportunities. These trails often lead to viewpoints that offer panoramic views of the coastline.
Support Local Businesses
One of the best ways to get a taste of local culture is by supporting local businesses. Visit the charming bakeries in Gearhart, indulge in fresh seafood at Astoria, or grab a pint of locally brewed beer in Pacific City. The seaside shops and restaurants add to the charm of these towns.
Practice Leave No Trace
As you enjoy these stunning beaches, remember the principle of Leave No Trace. Carry a trash bag with you and ensure you leave everything as you found it, if not better. This ensures that these places remain beautiful for future visitors and helps protect the marine life that calls these locations home.
Respect Wildlife
It's not uncommon to encounter wildlife. Whether it's the vibrant sea life in the tide pools, seals lounging on the beach, or the adorable puffins, remember to admire them from a distance. Feeding or disturbing wildlife can have a detrimental impact on their health and behaviors.
Make Time for Relaxation
While there's plenty to see and do on these beaches, remember to make time for relaxation. Whether it's a leisurely stroll on Manzanita, a picnic on Gearhart, or simply enjoying a breathtaking sunset at Cannon Beach, take time to unwind and soak in the beauty around you.
Final Words
These ten picks embody the diverse beauty of the Pacific North West. As a traveler, I've always believed in journeying deeper, in seeking out experiences that help me connect with a place. I hope that this list helps you do just that. So go ahead, pack your beach bag, and explore these extraordinary beaches near Astoria, Oregon. Happy traveling!