Being a world traveler for many years, I've dipped my toes into numerous coastlines, from the sun-baked shores of the Mediterranean to the icy banks of the Arctic Ocean. Yet, the sandy secrets nestled within the radiant embrace of Australia's sun continue to tug at my heartstrings.
One such memory that persists is the time I found myself in Canberra, the bustling capital of Australia. While many associate this vibrant city with its cultural treasures, I embarked on a quest to unearth the coastal gems within a few hours' reach. Here, I invite you to join me on this seaside escapade, beyond the city's political canvas, to discover the 10 best beaches near Canberra.
1. Jervis Bay
A turquoise paradise, Jervis Bay is situated within a three-hour drive from Canberra. Encapsulating various stunning beaches, it's renowned for its powdery white sand and crystalline waters, not to mention its abundant marine life.
Hyams Beach, a part of the larger Jervis Bay, holds the Guinness World Record for the whitest sand in the world. Imagine standing barefoot on this dazzling natural carpet, with the azure sea stretching as far as the eye can see, the gentle waves lapping at your feet.
2. Batemans Bay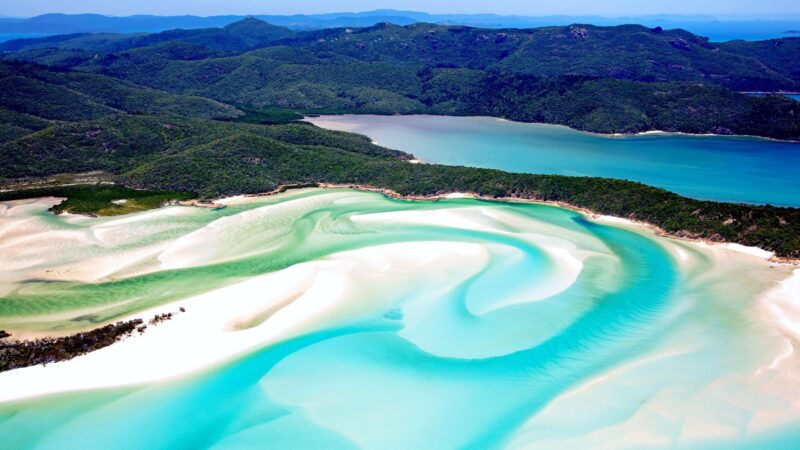 Batemans Bay is another one of Canberra's coastal neighbors, perfect for a day's getaway. Corrigans and Surf Beach are two top picks, boasting calm, shallow waters, ideal for families and casual swimmers.
Pebbly Beach, another favorite among visitors, offers not just sand and surf but also a chance to mingle with friendly kangaroos who frequent this spot. This place is truly where the bush meets the sea.
3. Mollymook
Just a little further south, Mollymook Beach unveils itself. This gorgeous stretch of sand is famed for its surf breaks, making it a magnet for surfers of all skill levels.
With dolphins frequently spotted playing in the waves and a backdrop of lush grassy areas, Mollymook serves as a scenic spot for a picnic, a beachside read, or just basking in the glorious sun.
4. Pambula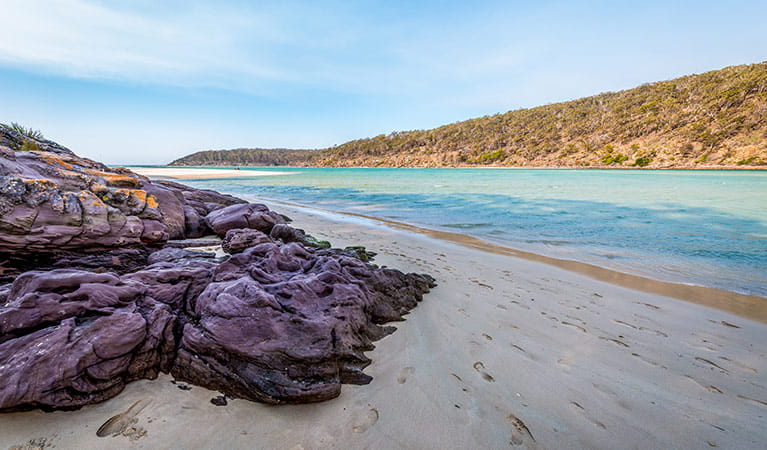 Located further down the Sapphire Coast, Pambula Beach offers a tranquil getaway. Known for its remarkable cleanliness and calm waters, this little piece of heaven is a beloved destination for swimming and fishing.
The adjacent River Mouth is a popular spot for children, with its gentle flow and abundant shell collection opportunities. Pambula is a true testament to the simple joys of a seaside retreat.
5. Depot Beach
Depot Beach, located in the Murramarang National Park, is a nature lover's paradise. Its tall rainforest backdrop teeming with birdlife, and resident kangaroos, provide a truly unique experience.
The clear, azure waters of this location are ideal for snorkeling. If you're lucky, you might even spot some sea turtles or dolphins while exploring the underwater world.
6. Narooma Surf Beach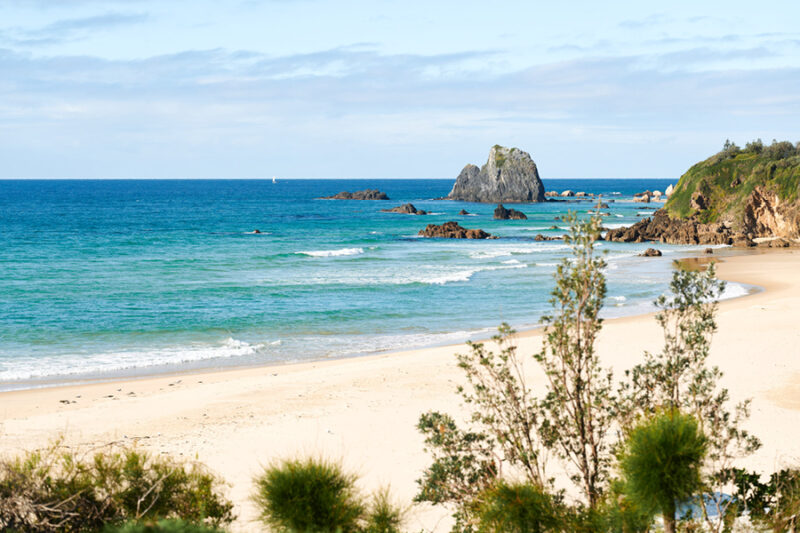 This one is a breathtaking stretch of coastline renowned for its surfing conditions, tranquil scenery, and, most importantly, the seals and whales often seen frolicking in the water.
The azure water, backed by the spectacular Glasshouse Rocks — a geological marvel, makes Narooma Surf Beach a haven for both photographers and nature lovers.
7. Pretty Beach
Don't be fooled by the simplicity of its name; Pretty Beach offers much more than just a 'pretty' view. With its pristine sands, azure waters, and bush camping sites, this place brings you back to nature's basics.
Keep an eye out for the local wildlife as you walk around the area, or sit back and watch the sunrise from your beachfront campsite. Pretty Beach is the perfect place for some much-needed tranquility.
8. Tuross Head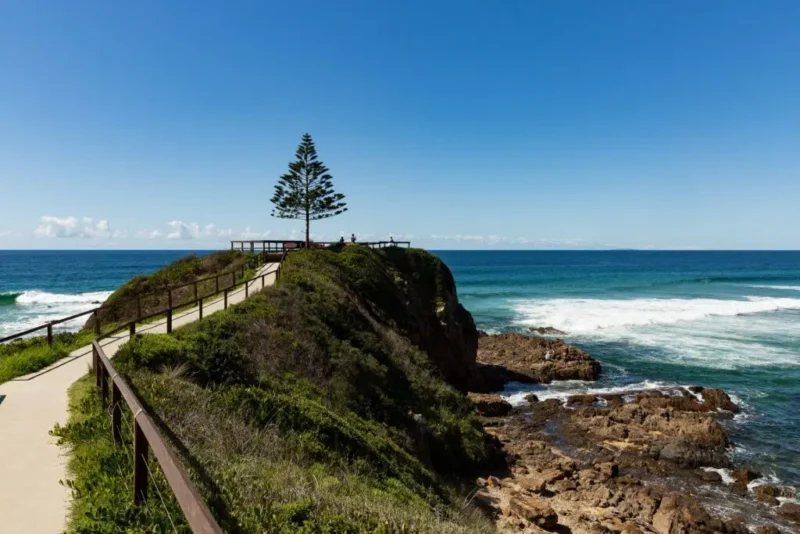 Tuross Head Beach offers an idyllic setting for any outdoor enthusiast, with crystal-clear waters, picturesque views, and a variety of activities, such as boating, fishing, and swimming.
The nearby Tuross Lake, separated from the ocean by a sandy spit, is a fantastic spot for canoeing and paddleboarding, offering a different perspective of the beautiful coastline.
9. Guerrilla Bay
A hidden gem, Guerrilla Bay is a paradise for those seeking peace and tranquility. This secluded beach is famed for its rock formations, tide pools, and marine life, making it an excellent spot for snorkeling.
In addition, the surrounding bushland, teeming with wildlife, invites explorers for a scenic hike, providing panoramic views of the coastline.
10. Merimbula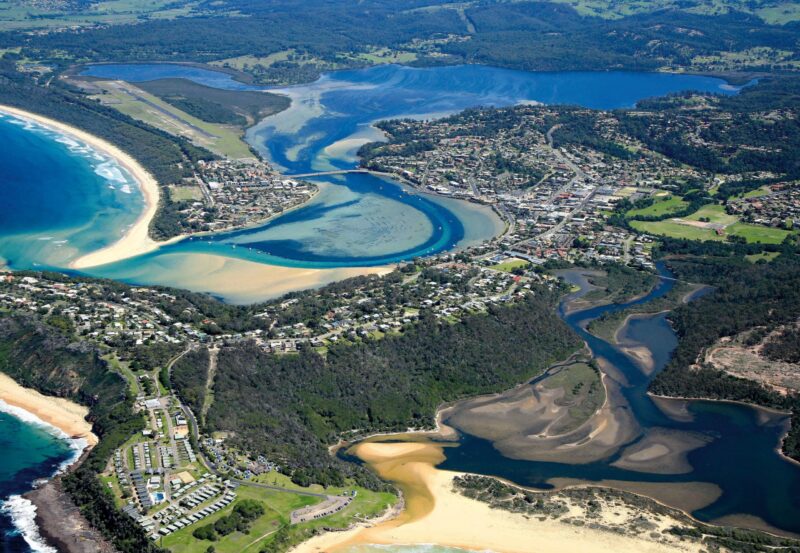 Last but not least, Merimbula Beach is a family-friendly spot known for its clean, calm waters. Alongside swimming and sunbathing, this location also offers opportunities for whale watching, especially during the migratory season.
The nearby town of Merimbula hosts a variety of eateries and shops, rounding off your day with a bit of exploration and indulgence.
How to Make the Most of These Beaches
Plan Your Visit
Before you set off on your escapade:
Check the weather: Australian weather can be unpredictable. Always ensure to check the forecast for your chosen day.
Check the tide times: Especially important for beaches renowned for their rock pools or snorkeling spots, like Guerrilla Bay.
Sun protection is key: Australian sun can be harsh. Remember to pack sunscreen, a hat, and sunglasses.
Respect the Environment
When visiting these natural wonders:
Leave no trace: Ensure you take all your rubbish with you.
Respect the wildlife: Many of these beaches are home to a variety of animals. Always observe from a distance and never feed wildlife.
Activities for Everyone
These offer a variety of activities:
For the adventurers: Snorkeling at Depot Beach, Surfing at Mollymook, or Hiking around Guerrilla Bay.
For families: Swimming at Batemans Bay, Shell collecting at Pambula, or Kangaroo spotting at Pebbly.
For relaxation seekers: Sunbathing at Jervis Bay, Picnicking at Mollymook, or Camping at Pretty Beach.
FAQs
1. What is the best time of the year to visit these beaches?
Most of the ones we have listed are lovely year-round. However, the best time would be during the Australian summer, from December to February, when the weather is warm and perfect for various activities.
2. How do I reach these beaches from Canberra?
The easiest way is by car. All of them are within a 3-4 hour drive from Canberra, making them perfect for day trips or weekend getaways.
3. Are these beaches safe for swimming?
Yes, most of them are safe for swimming, but always look out for safety signs and flags. If in doubt, stick to the shallows or supervised areas.
4. What should I pack for a day at the beach?
Remember to pack a swimsuit, towel, sun protection (sunscreen, hat, sunglasses), food and water, and perhaps a book or some games for entertainment.
5. Are these beaches crowded?
While some popular spots like Jervis Bay can get busy during the summer months, many of them, like Guerrilla Bay or Pambula, are peaceful and less crowded, offering a more serene experience.
Final Words
The beauty of Canberra's proximity to such a diverse range of beaches cannot be overstated. From the white sands of Jervis Bay to the serene and secluded guerrilla bay, each shoreline paints a unique canvas, beckoning exploration and relaxation. Whether you are a dedicated sun-worshiper, a wildlife enthusiast, an adventure-seeker, or a family looking for the perfect getaway, there's a beach with your name on it. So, pack your sunscreen, grab your hat, and prepare to uncover these coastal gems awaiting just a few hours from Canberra.