Greetings, fellow outdoor lovers! As an enthusiastic hiker, I've trekked through vast forests, scrambled over rocky terrains, and savored breathtaking vistas around the globe. However, I've discovered that some of the most invigorating trails are nestled in the tranquil outskirts of Scranton, Pennsylvania.
I first stumbled upon these trails during a visit to a friend living in Scranton. I was eager to satisfy my hiking cravings, so we set out to explore the local trails. I was blown away by the region's astounding beauty and diversity, and since then, I've made it a point to return every year.
1. Lackawanna River Heritage Trail
The Lackawanna River Heritage Trail, an urban trail stretching over 70 miles, is a tranquil escape right in the heart of Scranton. What I love about this trail is its ability to merge nature with history, providing a unique and multi-faceted hiking experience.
While hiking along the river's path, you'll encounter remnants of the region's industrial past, including historical railroad tracks, remnants of coal mining operations, and beautifully restored factories. Wildlife lovers will be delighted by frequent sightings of water birds, deer, and other native species.
2. Nay Aug Park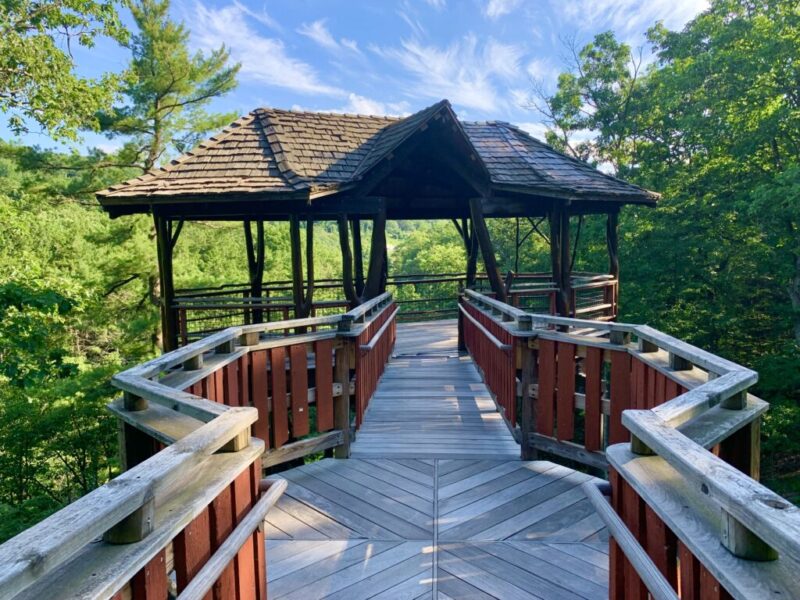 Nay Aug Park is Scranton's largest and most renowned park. For the adventurous hiker, the park offers a series of trails that wind through woodland, taking you past waterfalls and gorges and offering magnificent views of the Roaring Brook.
What sets Nay Aug apart is the Davis Trail, an ADA-accessible treehouse trail that provides panoramic views of the gorge, making the beauty of Nay Aug accessible to all. I particularly enjoy the sound of the rushing brook, a perfect melody to accompany your exploration.
3. Salt Springs State Park
Just an hour's drive from Scranton, Salt Springs State Park offers a spectacular array of trails through 405 acres of meadows and old-growth forest. The trails here are incredibly diverse, ranging from easy strolls to more challenging climbs.
The park is a nature lover's dream, with an abundance of wildlife and beautiful views of waterfalls and the gorge. The Hemlock Trail, in particular, is a personal favorite, winding through a stunning grove of old-growth hemlocks that make you feel like you've stepped back in time.
4. McDade Recreational Trail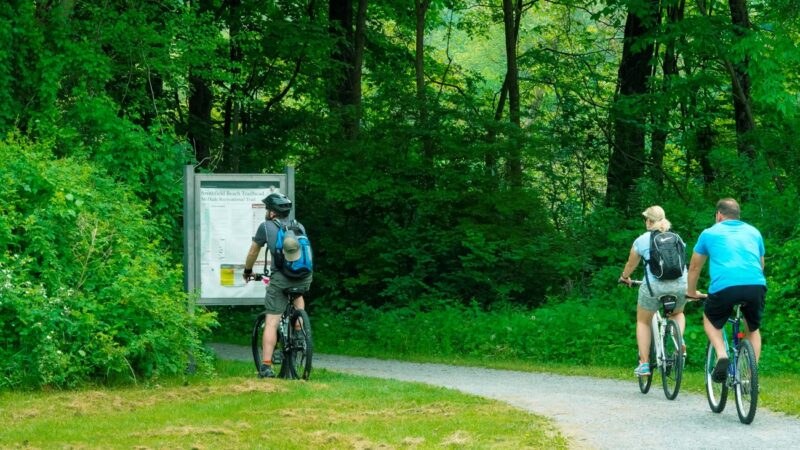 The McDade Recreational Trail is a true gem within the Delaware Water Gap National Recreation Area. This trail winds through varied terrains, offering splendid views of the Delaware River, rolling farmlands, and dense forests.
Hikers can enjoy sections of the trail suitable for all levels. The northern parts are flatter and easier, while the southern parts present a more challenging trek, including some steep climbs. A mid-summer hike here rewards you with ripe wild berries, adding a delicious bonus to your adventure.
5. Pinchot State Forest
Named after Gifford Pinchot, a notable conservationist, and former Pennsylvania governor, this state forest spans over 44,743 acres. The Pinchot Trail, a loop of approximately 23 miles, showcases the best of what this forest has to offer.
Diverse landscapes await you on this trail, from beaver ponds and bogs to dense woods and rocky ledges. The trail is also part of the National Audubon Society's Important Bird Area, so keep your binoculars handy to spot diverse bird species.
6. Bruce Lake Natural Area
Located within Promised Land State Park, the Bruce Lake Natural Area offers two main trails: The Bruce Lake Trail and the Egypt Meadow Lake Trail. These trails provide scenic views of glacial lakes and dense forests.
The trails are relatively flat, which makes them a great choice for families or novice hikers. However, they are also lengthy, so they offer a good day's hike for more experienced adventurers too. This is a hiker's haven, complete with beautiful views and an array of flora and fauna to discover.
7. Shuman Point Natural Area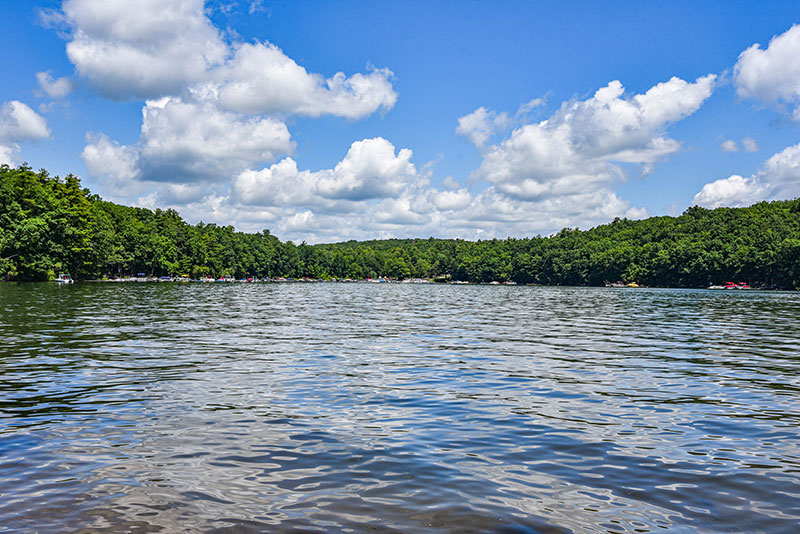 A short drive from Scranton, Shuman Point Natural Area is a hidden gem offering a 3-mile loop trail. The trail winds through a dense hardwood forest, eventually reaching the shores of Lake Wallenpaupack.
The trek to the lake's shoreline offers a serene atmosphere, and upon reaching, you're rewarded with beautiful views across the water. This trail can provide a quick escape into nature without the need for a long drive or a whole day's commitment.
Hiking Tips
Whether you're a seasoned hiker or new to the game, here are some tips that can help you enjoy the trails near Scranton:
Check the Weather: Weather can greatly impact your hiking experience. Make sure you check the weather forecast before heading out.
Pack the Essentials: These include water, snacks, a map or guide, a first aid kit, and layers of clothing.
Leave No Trace: Remember to leave the trails as you found them. Take all your trash with you and respect the wildlife.
Stay on the Trail: Wandering off the trail can lead to erosion and damage to the environment. Stick to the paths to keep both you and nature safe.
Know Your Limits: Not all trails are created equal. Understand the difficulty level of your chosen trail and make sure it matches your abilities.
FAQs
1. Is it safe to hike alone on these trails?
Yes, but always let someone know where you're going and when you plan to return. If possible, bring a companion.
2. Can I camp on these trails?
Some of the trails, such as those in Salt Springs State Park, have designated camping areas. Always check local regulations before setting up camp.
3. Are these trails dog-friendly?
Most trails welcome dogs, but they must be kept on a leash. Remember to clean up after your pet.
4. Are there facilities on these trails?
Some trails, like Lackawanna River Heritage Trail and Nay Aug Park, have facilities nearby. Others are more remote, so plan accordingly.
5. What is the best time to hike these trails?
Every season offers a unique hiking experience. Spring and fall are particularly beautiful due to the blooming flowers and changing foliage, respectively.
Final Words
Embark on these trails near Scranton, and you'll find that each journey brings its own unique charm and thrill. So, lace up those hiking boots, pack your essentials, and set out to uncover Pennsylvania's hidden hiking treasures.