Welcome to the sunny shores of Florida, where the magic of lovely beaches and thrilling theme parks meets the captivating world of cruising. With countless cruises departing from this top-notch destination, choosing the perfect one might seem like a daunting task.
But fret not, dear travelers, for this guide is your beacon of guidance! In the following post, we will unveil the top 10 cruises that embark from Florida, catering to every kind of adventurer.
Whether you're a seasoned cruiser planning your next escapade or a newbie eager to dip your toes into cruise life, we've got you covered. Our carefully curated selection includes a plethora of options, ranging from family-friendly extravaganzas like Disney Cruise Line's Disney Dream to luxurious voyages offered by Regent Seven Seas.
No matter your preference, we're here to assist you in planning the ultimate cruise holiday.
1. Disney Cruise Line – Disney Dream
Join us on a journey through enchanting worlds, where the magic of Disney extends beyond the iconic theme parks. Aboard the Disney Dream cruise ship, part of the esteemed Disney Cruise Line, you'll experience a delightful blend of Disney's enchanting charm and the allure of a tropical adventure.
Set sail from Port Canaveral, Florida, on a 4-night odyssey to the sun-soaked Bahamas, making cherished memories with your loved ones. The Disney Dream is a paradise for families, offering a plethora of activities and experiences tailored to guests of all ages.
One of the many delights of this magical voyage is the chance for kids (and the young at heart) to meet their beloved Disney characters, from the iconic Mickey Mouse to the elegant Elsa. As they roam the ship, these cherished characters are ever-ready to strike a pose for photos and sign autographs, making dreams come true for fans of all ages.
2. Royal Caribbean – Symphony of the Seas
Welcome aboard the Symphony of the Seas, a true gem in the illustrious fleet of Royal Caribbean. As the world's largest cruise ship, this magnificent vessel boasts a grandeur that rivals even the most bustling cities, offering a wealth of activities to delight guests of all ages.
Embarking on a 7-night escapade from the vibrant city of Miami, the Symphony of the Seas charts a course through the azure waters of the Eastern Caribbean. Along this enchanting journey, you'll have the pleasure of visiting picturesque havens like Philipsburg in St. Maarten and the historic marvel of San Juan in Puerto Rico.
Each port of call is a gateway to a world of cultural richness, historical wonders, and natural splendor, inviting you to explore a diverse tapestry of landscapes and experiences. But the adventure doesn't end when you step back on board.
The Symphony of the Seas is a playground of excitement, brimming with activities that promise to thrill and entertain. For the daring souls seeking an adrenaline rush, the ship's zip line stretches across its length, offering breathtaking vistas of the endless sea and the various decks below.
3. Norwegian Cruise Line – Norwegian Bliss
The Norwegian Bliss, a true masterpiece in the world of contemporary cruising, from Norwegian Cruise Line, is waiting to astound you. It all starts with a 7-night Western Caribbean cruise leaving from the exciting city of Miami, where this remarkable ship offers an unforgettable and lavish experience for her lucky passengers.
As they set out on this exhilarating voyage, visitors are transported to a beguiling tapestry of locations, each with its own unique attraction. The journey starts on the lovely island of Roatan, where clear waters and clean beaches call you to revel in total relaxation within the embrace of paradise.
The Norwegian Bliss takes you to an exclusive paradise, Harvest Caye, with lush landscapes and thrilling water activities for cherished memories. Next, explore the enchanting coastal village of Costa Maya, where ancient Mayan ruins blend with vibrant markets and modern amenities.
Lastly, dive into the captivating underwater world of Cozumel, a dream for snorkelers and divers with vibrant marine life.
4. Carnival Cruise Line – Carnival Mardi Gras
Carnival Cruise Line operates the majestic 180,000-gross-ton Carnival Mardi Gras. As the first ship in a new class, it was dedicated in 2021 and promised passengers an innovative and exciting experience.
With a capacity to accommodate up to 6,500 passengers at double occupancy, this grand vessel offers a plethora of amenities and activities for guests to enjoy. Indulge in a delightful array of dining options, including the mouthwatering Guy Fieri's Burger Joint, Shaq's Big Chicken, and the charming Cucina del Capitano Italian restaurant.
With several bars and lounges on board, a thrilling casino, a water park complete with water slides, a lazy river, and a wave pool, as well as a ropes course, the Carnival Mardi Gras ensures that adventure and entertainment are never in short supply. Choose from a variety of itineraries, such as Caribbean cruises, Bahamas cruises, or New York City to Bermuda cruises, and get ready to create lasting memories at sea.
5. Celebrity Cruises – Celebrity Edge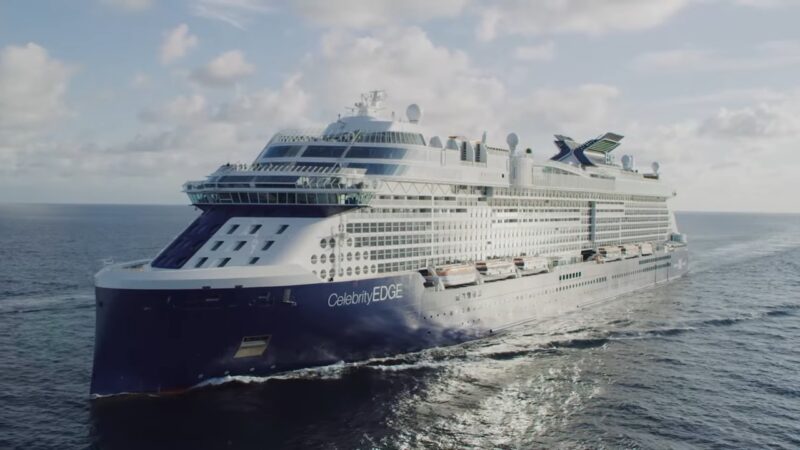 Celebrity Cruises' majestic 129,500-gross-ton cruise ship, Celebrity Edge, was introduced in 2018. It is a watershed moment for the company and exhibits a new degree of luxury. The Celebrity Edge offers refined and upmarket travel for individuals looking for an unparalleled experience at sea, with a capacity for 2,900 guests at double occupancy.
Join the Celebrity Edge for incredible voyages to stunning locales including the Caribbean, Europe, and South America. The magnificent infinity pool offers a breathtaking view of the ocean while you unwind.
Don't forget to take advantage of the Magic Carpet, a unique platform that stretches from the ship and offers you a variety of sights and sensations. Go to the Lawn Club, a lovely outdoor space, if you would like some peace and quiet.
And for some amazing entertainment, check out the Aqua Theater, which has breathtaking water shows and risk-taking aerial stunts. There is a fantastic gym with knowledgeable trainers to assist you in reaching your objectives if fitness is your thing.
The spa also provides exquisite facilities and soothing treatments for some well-deserved pampering. Prepare yourself for an unforgettable!
6. Princess Cruises – Sky Princess
Welcome aboard the Sky Princess, a cruise ship operated by Princess Cruises. Launched in 2019, this third ship in the Royal-class embodies the epitome of modern luxury and elegance for Princess Cruises.
Indulge in a culinary journey with a variety of dining options, including 19 restaurants and 13 bars and lounges, offering an array of delectable delights to please every palate. Onboard, you'll find numerous pools, hot tubs, a rejuvenating spa, a well-equipped fitness center, and even a casino to add excitement to your cruise.
Join the Sky Princess on a wonderful journey; it provides a wide variety of itineraries, such as Caribbean cruises, Mexican Riviera cruises, and Alaska cruises. You may enjoy the delights of the SeaWalk, a glass-bottomed walkway that juts over the side of the ship and offers stunning ocean vistas, during your voyage.
The Skywalkers observation lounge is the perfect spot to immerse yourself in a 360-degree panoramic spectacle of the sea. The Sky Princess is an ideal choice for couples, families, and groups of friends seeking a luxurious and fun-filled cruise experience.
7. Holland America Line – Nieuw Statendam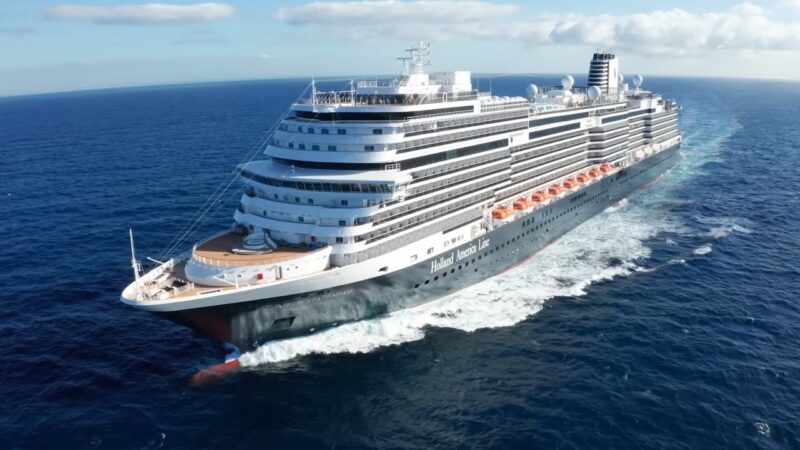 A flawless fusion of luxury and entertainment is guaranteed by the Nieuw Statendam cruise ship, which joined the Holland America Line in 2018. It features a variety of amenities, including restaurants, bars, lounges, a casino, a spa, a fitness center, and a theater.
The Lincoln Center Stage offers top-notch entertainment, including Broadway plays and captivating live performances. Treat yourself to a relaxing spa treatment at the Lotus Spa, which offers everything from massages to facials for a revitalizing experience.
Dining on board the Nieuw Statendam is a gourmet delight because of the variety of food options available, including Michelin-starred restaurants, buffet places, and themed dining experiences. The charming Grand Dutch Cafe, which offers delicious Dutch food and drinks, and the vibrant B.B.
King's Blues Club, where live blues music creates the ideal ambiance for wonderful evenings, is not to be missed.
8. MSC Cruises – MSC Meraviglia
Launched in 2017, MSC Meraviglia, a cruise ship run by MSC Cruises, is the first of its type in the Meraviglia-class and offers visitors looking for an amazing seaside retreat a world of elegance and entertainment.
Themed areas like the Central Park, Aqua Park, and Sportsplex create enchanting experiences for guests to explore. From a Broadway-style theater to a variety of bars and lounges, entertainment abounds, ensuring every moment is filled with joy and excitement.
Revel in the amenities offered by the MSC Meraviglia, from the serene spa and fully equipped fitness center to the fantastic kids' club, catering to the needs of all passengers. Whether you're a couple seeking romance, a family looking for fun, or a group of friends in search of adventure, the MSC Meraviglia is the epitome of a luxurious and joyful cruise experience.
Prepare to relax, unwind, and savor all the wonders the ocean has to offer aboard this remarkable ship.
9. Virgin Voyages – Scarlet Lady
Set sail on a fantastic journey on board the magnificent cruise ship operated by Virgin Voyages, the Scarlet Lady. The Scarlet class's first ship of its sort to be launched in 2020, it redefines how people typically think about maritime travel.
One of the standout features of the Scarlet Lady is its adult-only status, creating an atmosphere of relaxation and sophistication. With no one under the age of 18 allowed on board, it's the ideal choice for couples and groups of friends in search of a more laid-back and grown-up cruise experience.
A unique aspect of the Scarlet Lady is its lack of a dress code, allowing you the freedom to express yourself and enjoy a carefree and fun-filled vacation. Let loose and have a blast without any restrictions on your attire.
Adding to the allure, the Scarlet Lady offers inclusive pricing, covering all meals, drinks, and activities in the cruise fare. This makes budgeting for your vacation a breeze and ensures that you can fully immerse yourself in the experience without worrying about hidden costs.
Embracing sustainability, the Scarlet Lady is designed with environmentally conscious features, including energy-efficient lighting and water conservation measures. It's a ship that prioritizes responsible cruising, making it an ideal choice for eco-conscious travelers.
The Scarlet Lady awaits you and is a perfect choice for couples, groups of friends, and solo travelers seeking a luxurious and fun-filled cruise experience. Get ready to relax, unwind, and revel in all the wonders the ocean has to offer aboard this extraordinary vessel.
10. Regent Seven Seas Cruises – Seven Seas Explorer
This exquisite 750-passenger cruise ship, launched in 2016 as the first in the Explorer class, is a pinnacle of opulence for Regent Seven Seas Cruises. With its top-notch amenities and impeccable service, the Seven Seas Explorer offers an extraordinary escape for travelers seeking the ultimate indulgence at sea.
Experience the epitome of luxury with the Seven Seas Explorer's accommodations, where all staterooms are suites, many of which boast private balconies for stunning views. Pamper yourself with a variety of treatments at the spa, stay active at the fitness center, or try your luck at the casino.
The ship's exceptional service is second to none, as the attentive crew goes above and beyond to ensure that each guest's vacation is truly memorable. With an intimate atmosphere on this small ship, you'll have the chance to forge meaningful connections and make new friends.
FAQ
Which Florida ports do these cruises depart from?
The cruises featured in our guide primarily depart from major Florida ports such as Miami, Fort Lauderdale, Port Canaveral, and Tampa.
How long do these cruises typically last?
The duration of the cruises varies depending on the itinerary and destination. You can find options ranging from 3 to 14-night cruises.
Are there any special deals or discounts available for these cruises?
Common cruise deals include early booking discounts, last-minute deals, and special promotions offered by the cruise lines.
Is travel insurance necessary for these cruises?
Travel insurance is recommended to protect your investment and ensure peace of mind during your cruise.
Final Words
Florida is a great place to go on a cruise, whether you're looking for a family-friendly adventure or a relaxing getaway. There are cruises to suit all budgets and interests, and you can choose from a variety of destinations, including the Caribbean, the Bahamas, and the Mexican Riviera.
If you're looking for a family-friendly cruise, Disney Cruise Line is a great option. Their ships offer a wide variety of activities for kids of all ages, including character meet-and-greets, onboard water parks, and themed restaurants.
If you're looking for a more relaxing cruise, there are plenty of adult-only options available.