Tokyo is a city that is known for its high-tech skyscrapers, bustling streets, and rich culture. But for many travelers, one question lingers: does it snow in Tokyo?
If you're planning a trip to this vibrant city, you might be wondering what to expect in terms of weather.
In this blog post, we'll explore the answer to this question and delve into the unique climate of Tokyo.
We'll cover the average temperature, the best time to visit, and everything you need to know about the weather in this fascinating city. So, if you're curious about the snowfall in Tokyo, read on!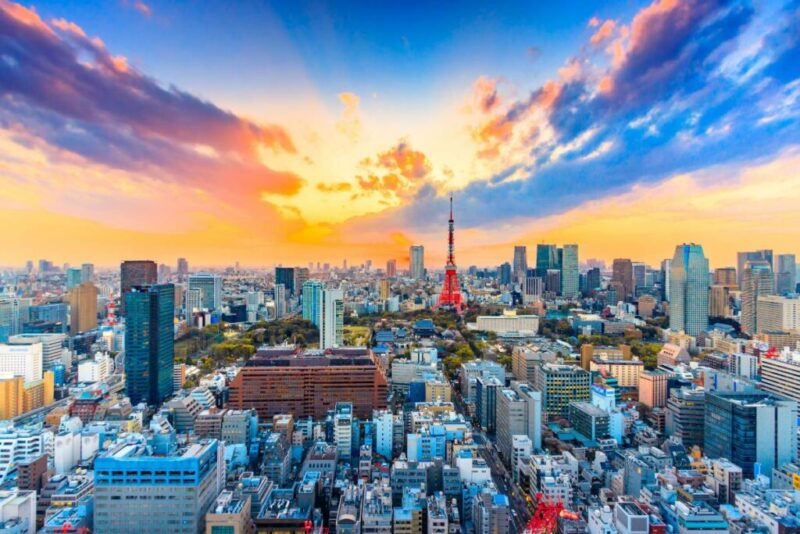 Does It Snow In Tokyo?
Yes, it does snow in Tokyo on occasion, but it is not a common occurrence. Most years will see only a few days with any measurable amount of snowfall, and accumulation rarely exceeds a few centimeters. If you are hoping to see a traditional winter wonderland during your visit, you may be disappointed.
Tokyo is located in a subtropical climate zone, so the temperature rarely dips below freezing. However, it is not unheard of for snow to fall in Tokyo occasionally.
Tokyo has an average snowfall of 1 to 3 inches per year, but this amount can vary depending on the Year.
It does snow in Tokyo, but not every year. The last time it snowed heavily was in 2022, Where 87 cm of snow fell In Uonuma, while 76 cm fell in Nagaoka and 72 cm in Kashiwazaki. 
The record amount of snowfall in a day was in January 1945, when 49 cm (19.3 inches) fell. But since it is such a rare event, even a light dusting of snow can cause big problems for the city and its residents. Recently, The snowfall in December 2022 broke that record, and Snow fell, amounting to 34.25 inches of snow.
If you are planning a trip to Tokyo and are hoping to see some snow, your best bet would be to visit in February, when the weather is at its coldest.
How Often Does It Snow In Tokyo?
Tokyo sees an average of 4.7 days of snowfall per year. The month of February tends to see the most snow, with an average of 8.2 days of snowfall.
However, it is possible to see snowfall in Tokyo outside of the month of February. The lightest snowfall recorded in Tokyo was in January 2020, when only 0.2 inches fell over the course of the month.
Since Tokyo is such a large and diverse city, some areas may see more snow than others.
The mountainous areas surrounding Tokyo often see much more snowfall than the city itself, so if you're hoping to see some snow while in Tokyo, your best bet would be to visit one of these areas. Some popular spots for seeing snow in Tokyo are Mt. Takao, Mt. Fuji, and the Nikko region.
When Does it Snow In Tokyo?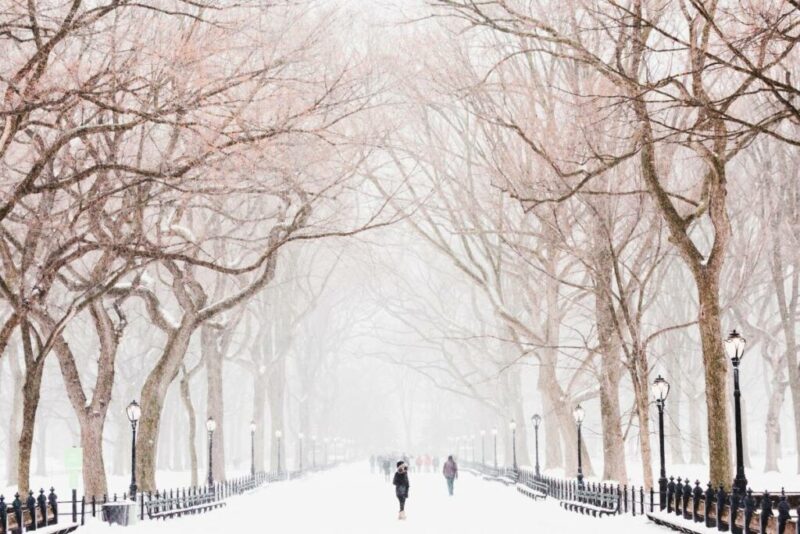 Although it snows in Tokyo, it is not a very common occurrence. The Japanese capital sees an average of only three days of snowfall per year, and even then, the snow doesn't usually stay on the ground for very long.
Tokyo generally has its first snowfall in late November or early December, and heavy snowfall usually doesn't occur until mid-January. The best time to see Tokyo's famous cherry blossoms in late March or early April.
However, it is important to note that the city's weather can be quite unpredictable, so there is no guarantee that it will snow during this time period.
If you are hoping to see some snowfall during your trip to Tokyo, you may want to consider visiting one of the city's nearby mountain resorts. These areas usually have a much higher chance of seeing snowfall than the city itself.
What Is the Climate Like in Tokyo?
Tokyo experiences four distinct seasons, with temperatures ranging from about 4-5°C in winter to about 25-30°C in summer. Humidity levels are also fairly high all year round, averaging around 70%.
Precipitation is fairly evenly distributed throughout the year, although Tokyo does tend to be a bit drier than other parts of Japan. Snowfall is not particularly common, but it does happen – usually in December or January. If you do visit Tokyo during snowy weather, you'll be able to enjoy some of the city's famously picturesque winter scenery.
The Various Seasons in Tokyo
The Tokyo area has four distinct seasons: spring, summer, autumn, and winter. Each season has its own weather patterns and average temperatures.
In spring, the weather warms up, and the cherry blossoms start to bloom. This is a popular time to visit Tokyo.
Summer is the rainy season in Tokyo. It can be hot and humid, with temperatures often reaching into the 90s Fahrenheit (30s Celsius).
Autumn is a beautiful time of year in Tokyo, with the leaves changing color and cooler temperatures. This is one of the best times to visit.
Winter can be cold in Tokyo, with temperatures sometimes dipping below freezing. However, it is also one of the driest times of the year.
Does It Snow in Tokyo in February?
Tokyo saw very little snowfall in February, with an average of only 2.5 centimeters (1 inch) of accumulation.
However, the city does occasionally experience larger snowstorms that can drop up to 20 centimeters (8 inches) of snow in a single day. If you're hoping to experience a winter wonderland during your visit to Tokyo, you'll likely be disappointed.
Does It Snow in Tokyo in March?
March sees the start of spring in Japan, and with it comes warmer weather and the chance of rain and snow. travellers can expect average temperatures of around 13°C, with highs of 18°C and lows of 8°C. Tokyo sees an average of 12 days of rain during the month, as well as 13 days of snow.
Does It Snow in Tokyo in November?
In general, the chances of seeing snow in Tokyo in November are very low. Snowfall is rare at this time of year, and when it does occur, it is usually only a light dusting that quickly melts away.
However, there have been some years when heavier snowfalls have blanketed the city, so it is always a good idea to be prepared for cold weather if you are visiting Tokyo in November.
Does It Snow in Tokyo in December?
In December, Tokyo sees an average of 9.3 inches of snowfall. While it is not a guarantee that it will snow during your visit, it is definitely something to be prepared for! Bundle up and enjoy the winter wonderland that Tokyo can be.
What Are the Most Popular Things to Do in Tokyo in Winter?
Tokyo is a city that is alive with energy and excitement, no matter what the season. In the winter months, there are plenty of things to do and see in this bustling metropolis. Here are a few ideas to help you make the most of your visit to Tokyo during the winter season:
Visit the Tokyo Metropolitan Government Building Observation Deck: This iconic building offers breathtaking views of the city, especially during the winter when the sky is clear.
Go skiing or snowboarding at one of the nearby resorts: The Japanese Alps are just a short train ride away from Tokyo, and there are plenty of ski resorts to choose from.
Explore the city's Christmas markets: Tokyo has a number of festive markets that pop up during the winter season, offering a chance to do some holiday shopping and enjoy traditional foods and drinks.
Check out the Tokyo Dome City Winter Illumination: This annual event features breathtaking light displays that are sure to delight visitors of all ages.
Visit the Tokyo National Museum: This museum is home to a wide variety of art and cultural artifacts from Japan and around the world. It's a great place to escape the cold and learn more about the country's history and culture.
No matter what you choose to do, Tokyo in the winter is a magical place that is sure to delight and inspires. So, if you're planning a trip to this amazing city, be sure to add these activities to your itinerary.
What are Most Popular Places to See the Snow in Tokyo?
There are a few places in Tokyo where you can see the snow, and they are all worth visiting. The most popular spot is probably Tokyo Snow Park, which is located in the heart of the city.
This park has a large snow-covered area where you can go sledding, skiing, or just play in the snow. There are also several restaurants and cafes in the park, so you can warm up with a hot drink or a meal after playing in the snow.
Another great spot for seeing the snow is the Meiji Jingu Shrine. This shrine is located in a forest, and when it snows, the entire area is blanketed in a thick layer of white.
The shrine itself is very beautiful, and it's definitely worth taking a walk through when it's covered in snow.
If you want to see the snow without having to go too far from Central Tokyo, then you should head to Okutama. This town is located west of Tokyo, and it's a great place to see the snowfall.
There are several hiking trails in Okutama that are perfect for walks in the winter, and you can also find some hot springs here if you need to warm up after playing in the snow.
What to Do in Tokyo After Seeing the Snow?
There are many things you can do after your Fun Snowy Adventure in japan. Here is a small list for you to get started:
Head to a brewery
While you're in Japan, you might as well try some of the amazing local craft beer. Tokyo has a great craft beer scene, and there are several breweries within the city limits. Some of our favorites include Yona Yona Alehouse, located in Shibuya, and Popeye, located in Hamamatsucho.
Explore a Snow-Covered Temple
Japan is home to over 80,000 temples and shrines, many of which are located in Tokyo. In the winter, these temples take on an even more magical quality thanks to the snow. One of our favorites is Sensoji Temple in Asakusa.
Warm Up with Some Hot Sake
What better way to warm up after a day exploring Tokyo in the snow than with a cup of hot sake? There are several great places to enjoy this Japanese staple, including Ippuku in Asakusa and Daimaru in Shibuya.
Take a Dip in a Natural Hot Spring
Tokyo is home to several natural hot springs or onsens. These are the perfect place to relax after a day spent exploring the city in the cold weather. Some of our favorite onsens include Komatsu no Yu in Odaiba and Tsubame Onsen in Shibuya.
Conclusion
So Does it Snow in Tokyo, Japan? Well, Based on the available evidence, it appears that Yes Tokyo does occasionally see snowfall, though it is far from a common occurrence. However, it seems that the winters are not as cold as one might expect, and the amount of snowfall is not significant.
Given the city's high latitude and proximity to mountains, it is likely that snowfall will become more frequent in the future due to climate change. Tokyo residents should therefore be prepared for the possibility of snowfall, even if it is not something they are accustomed to seeing.
Nevertheless, if you are interested in seeing some snow while you are in Tokyo, it is best to visit during the months of January or February.
Related Articles
FAQs: About Snow in Tokyo
Snow is not an everyday occurrence in Tokyo, but it does happen occasionally. Here are some answers to some frequently asked questions about snow in Tokyo.
How Frequently Does It Snow in Tokyo?
On average, Tokyo sees around 5 days of snowfall per year. However, this can vary greatly from year to year.
For example, in 2017-2018, Tokyo saw 22 days of snowfall, while in 2018-2019, there were only 3 days of snowfall.
When Is the Best Time to See Snow in Tokyo?
The best time to see snow in Tokyo is typically from late December to early February. However, as mentioned above, this can vary greatly from year to year.
What Should I Do If It Snows While I'm in Tokyo?
First and foremost, don't panic! Snow is relatively rare in Tokyo, so many residents may not be used to dealing with it either.
If you're able and comfortable doing so, help out your fellow residents by shoveling snow off of sidewalks or helping clear roads.
If you don't feel comfortable doing that, simply enjoy the rare opportunity to see (and play in) the snow!