San Diego is known for having mild winters; it has its own micro-climates that experience a variety of weather conditions unique to the area. But does it snow in San Diego? 
There are many myths and assumptions about the weather in San Diego. This blog will look at the real weather facts and what you can expect in the winter months.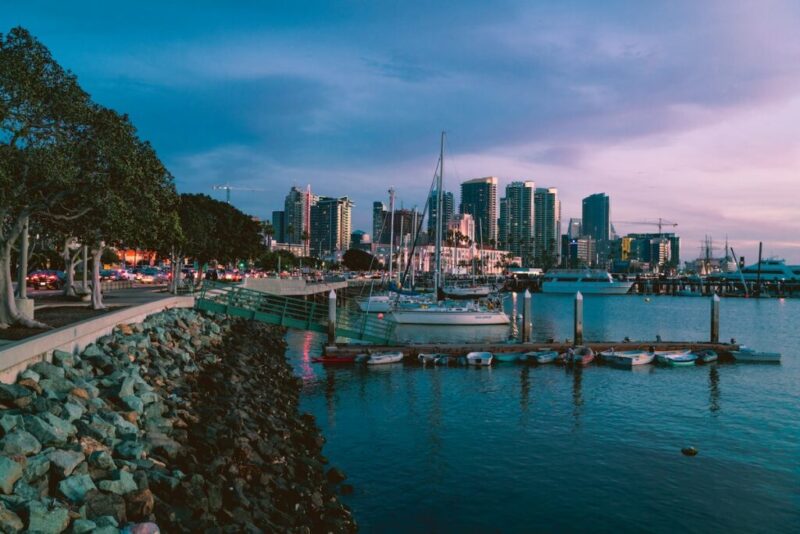 Does It Snow in San Diego?
San Diego, California, has a reputation for being one of the warmest places in the United States. The city is located in Southern California on the coast of the Pacific Ocean. The average temperature in San Diego is 70 degrees Fahrenheit (21 degrees Celsius).
San Diego rarely sees snowfall, but it has happened on occasion. The last major snowstorm to hit the city was in December 2008. That storm brought several inches of snow to the area, which caused traffic problems and closed schools.
In February 2019, there was a trace amount of snowfall recorded in San Diego. This was the first time that any measurable amount of snowfall had been recorded in the city since December 2008.
Despite its reputation for being warm and sunny all year round, San Diego does occasionally see some snowfall.
So while snow is a rarity in San Diego, it does happen on occasion. If you're lucky enough to be here when it does, make sure to enjoy the experience!
How Often Does It Snow In San Diego?
Although it is very rare, it is possible for snow to fall in San Diego. The last time it snowed was on February 25, 2021, and people were so excited that they went outside and started playing and sledding in the snow!
The average temperature in San Diego is about 60 degrees Fahrenheit, but it can get cooler in the winter months. If the temperature drops below freezing, and there is moisture in the air, then snow could fall.
When Does It Snow in San Diego?
While it is uncommon, it does snow in San Diego on very rare occasions. The last time it snowed was on February 2021, and prior to that, the last time it snowed was on January 7, 2008.
It typically snows in the mountains above San Diego, such as Julian, Palomar Mountain, Descanso, and Mount Laguna. Snowfall in the city itself is a very rare occurrence.
The Climate in San Diego
San Diego's Mediterranean-like climate is characterized by warm, dry summers and mild, relatively wet winters. The city averages about 200 sunny days per year.
July and August are usually the warmest months, with an average high of about 86 degrees Fahrenheit (30 degrees Celsius). December and January are usually the coolest months, with an average high of about 66 degrees Fahrenheit (19 degrees Celsius).
Precipitation in San Diego is fairly evenly distributed throughout the year, but October through April tend to be the wettest months.
The annual average rainfall is about 12 inches. Snow is extremely rare in San Diego, but flurries have been known to fall on the highest peaks in the nearby mountains.
The Seasons in San Diego
San Diego has a Mediterranean climate, which means it generally has very mild weather.
The average highs are in the 70s and 80s Fahrenheit (20s Celsius) throughout the year, and the average lows are in the 50s and 60s Fahrenheit (teens Celsius). The city averages about 12 inches of rain per year.
The "seasons" in San Diego are pretty subtle. In the spring (March-May), the hills turn green from all of the rain, and wildflowers start to bloom.
In the summer (June-August), it can get warmer, with average highs in the low 80s Fahrenheit (27-29 Celsius).
December through February is considered "winter" in San Diego, although it's still pretty mild.
The temperatures cool down a bit into the 60s Fahrenheit (15-18 Celsius) on average. And yes, sometimes it does snow in San Diego — not often, but it does happen!
Popular Things to Do in San Diego in Winter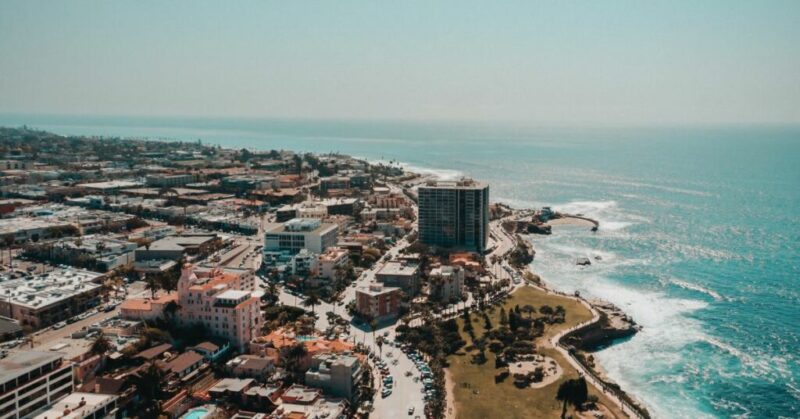 San Diego might not be the first place that comes to mind when you think of a winter vacation destination, but there are actually tons of fun things to do here when the weather cools down.
From holiday light displays to snow days at the zoo, here are some great ideas for how to enjoy your time in San Diego this winter.
One of the most popular winter attractions in San Diego is the December Nights holiday festival at Balboa Park. This event features beautiful light displays, carolers, and performances from local musicians and dance groups. Visitors can also enjoy delicious food from around the world at the International Winter Food Fair.
Another great way to spend a day in San Diego during winter is by visiting the San Diego Zoo. The zoo is open 365 days a year, and it's even more fun to visit when the animals are all cozied up in their winter coats. You can also take a behind-the-scenes tour to learn more about how the zoo takes care of its animals during the colder months.
If you're looking for a truly unique winter experience, consider spending a day tubing down Snow Summit, one of Southern California's only snow slopes.
Located just a few hours away from San Diego in Big Bear Lake, Snow Summit is perfect for a day trip or a weekend getaway.
After a day of playing in the snow, warm up with dinner and drinks at one of Big Bear's cozy cabin restaurants.
One of the most popular winter activities in San Diego is whale watching. The migration of gray whales along the California coast begins in December and continues through April.
You can see them from many vantage points along the coast, but one of the best spots is Cabrillo National Monument at the edge of Point Loma.
If you're looking for something a little more active, try snowboarding or skiing at Mt. Laguna Snow Park.
The park opens when there is enough snow on the ground, usually in December or January, and conditions usually stay good through February or March. Snow Park is located about 60 miles east of downtown San Diego.
For a truly unique experience, consider visiting Julian during apple season. This small town in the mountains northeast of San Diego is known for its apples and apple pies. The season generally runs from October to March, so winter is a great time to visit.
Here are San Diego's Snowiest Places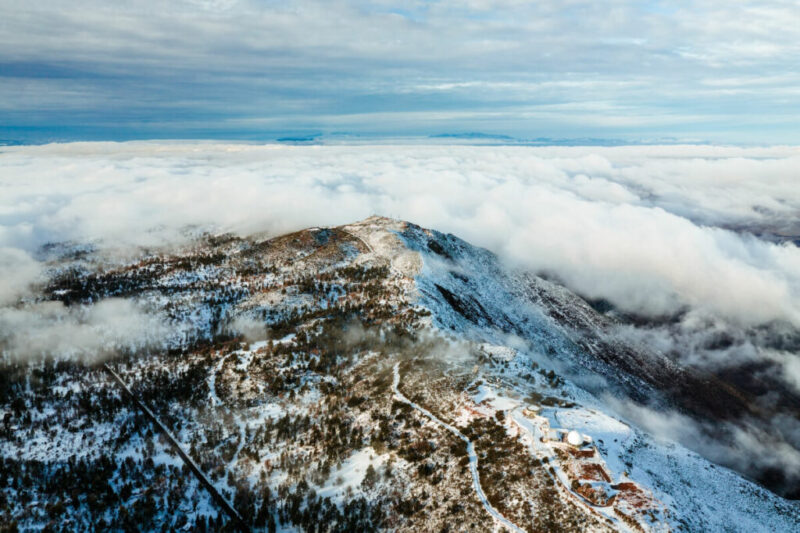 San Diego may not be known for its snow, but there are a few places in the county where you can find a decent amount of the white stuff – if you know where to look. Here are some of San Diego's snowiest places:
1. Mt. Laguna: This small mountain town in the Cleveland National Forest typically sees around 30 inches of snow each year.
2. Palomar Mountain: At an elevation of 5,600 feet, Palomar Mountain is one of the highest points in San Diego County. It's also one of the snowiest, with an average of 25 inches of snowfall each year.
3. Julian: This small town east of San Diego is known for its apples – and its snow. Julian sees an average of 20 inches of snow each year.
4. Mt. Baldy: This popular ski resort in the San Gabriel Mountains receives an average of 60 inches of snow each year, making it one of the snowiest places in Southern California.
FAQs About Snow In San Diego
Is It Ever Cold Enough in San Diego for It to Snow?
No, it is not cold enough in San Diego for it to snow. The average temperature in San Diego is 60 degrees Fahrenheit (15 degrees Celsius).
Can It Snow in San Diego?
Although it's rare, snow has been known to fall in the higher elevations of the city. The most recent significant snowfall occurred in January 2008, when up to 3 inches (7.6 cm) of snow blanketed parts of the city.
Conclusion
In conclusion, while it is possible for snow to fall in San Diego, it is very rare. If you are hoping to experience a snow day in Southern California, your best bet is to head up to the mountains.