Are you planning a trip to Beijing and wondering what the weather will be like? Or perhaps you're just curious about the climate in one of the world's most populous cities. Either way, you may be wondering, does it snow in Beijing?
In this blog post, we'll delve into the details of Beijing's climate, including the average temperatures and snowfall during the winter months. We'll also discuss how the city's residents enjoy the winter season and the beautiful winter scenery that can be found in Beijing.
So if you want to know more about the weather in Beijing and whether or not you should pack your snow boots for your trip, keep reading!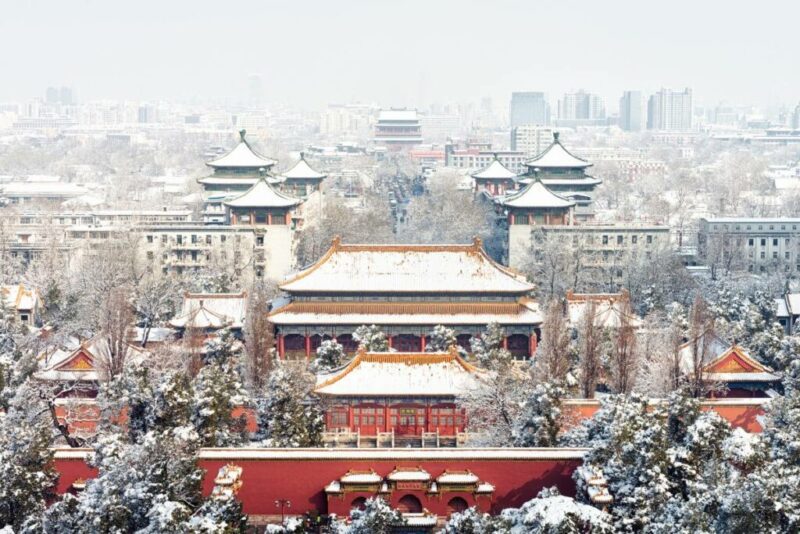 Does It Snow In Beijing?
Beijing, like most of North China, has a continental climate with cold, dry winters and hot, humid summers. From late October until early March, the city experiences cold, dry weather due to the influence of the Siberian Anticyclone.
Temperatures usually stay below freezing during this time, and Beijing often sees its first snowfall in November. January and February are generally the coldest months, with average highs of only 1-2 degrees Celsius (about 34-36 degrees Fahrenheit).
The answer to the question "does it snow in Beijing, China?" is Yes, it does snow in Beijing. Although it occasionally snows in Beijing during other times of the year, heavy snowfalls usually occur between December and February.
In fact, Beijing sometimes sees so much snow that the city has to close its airport or close down schools. If you're planning to visit Beijing during the winter, be sure to pack your warmest clothes!
How Often Does It Snow In Beijing?
There is no definitive answer to this question, as Beijing's weather patterns can vary greatly from year to year. That being said, Beijing generally experiences its first snowfall in late November or early December, and the city typically sees several more snowfalls throughout the winter months.
When Does it Snow In Beijing?
Beijing has a temperate climate with four distinct seasons. It can snow as early as November and as late as March. The heaviest snowfalls usually occur in January and February.
Exploring the Climate of Beijing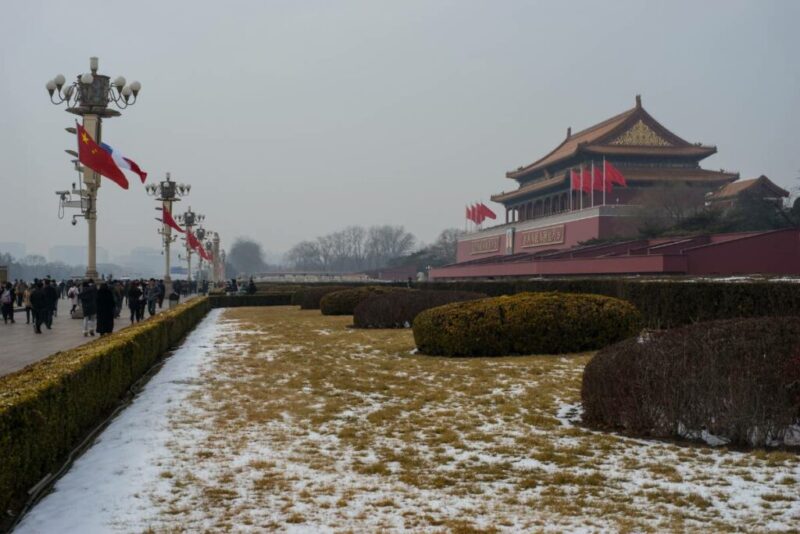 The city of Beijing has a monsoon-influenced, humid continental climate (Köppen Cwa/Dwa), characterized by hot, humid summers due to the East Asian monsoon and generally cold, windy, dry winters that reflect the influence of the vast Siberian anticyclone.
Spring and autumn are transitional seasons. The city experiences a key influence from its proximity to the Mongolian steppe. Dust from the Gobi Desert often moves in during spring as the wind direction changes from northerly to southerly, sometimes causing massive dust storms.
The daily average temperature in January is −3.6 °C (25.5 °F), while in July, it is 26.4 °C (79.5 °F). Extreme temperatures ranged from −27.9 °C (−18 °F) on 8 February 1966 (an unofficial record) up to 42.6 °C (108.7 °F) on 15 July 1942 (official record).
With monthly percent possible sunshine ranging from 38 percent in March to 53 percent in August, the city receives 2,570 hours of bright sunshine annually; winter and spring are sunnier than summer and autumn, which are cloudier.
Experience the Changing Seasons in Beijing
Beijing has four distinct seasons. Spring and autumn are the best times to visit when the weather is mild and sunny.
The city comes alive with blossoms in spring, while autumn sees clear skies and colorful leaves. Winters are cold and dry, while summers are hot and humid.
Beijing's spring starts in March and lasts until May. This is the best time to visit Beijing, as the weather is mild and sunny. The city comes alive with blossoms, and you can see the famous cherry blossoms in full bloom around Zhongshan Park.
Summer in Beijing lasts from June to August, and this is the busiest time of year for tourism. The weather is hot and humid, so it's best to escape the city heat by going to the Great Wall or one of Beijing's many parks.
Autumn comes to Beijing in September and October, bringing clear skies and colorful leaves. This is another great time to visit the city, as you can enjoy all the activities on offer without having to battle crowds of tourists.
Wintertime in Beijing starts in November and lasts until February. This is the coldest time of year, with temperatures often dipping below freezing point. However, this also means that it's a great time to visit Beijing's ski resorts!
A List of Fun Things to do for Winter Activities to Enjoy in Beijing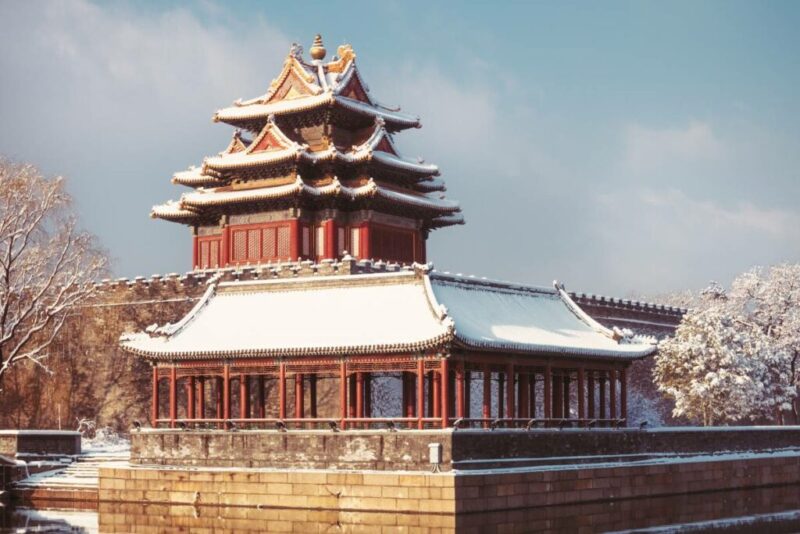 With its rich culture, stunning architecture, and vibrant nightlife, Beijing is a popular tourist destination all year round.
However, winter is a particularly magical time to visit the Chinese capital, when snow blankets the city and its ancient buildings are illuminated against the night sky.
If you're planning a trip to Beijing in winter, here are some of the best things to do:
Visit the Great Wall of China
One of the seven wonders of the world, the Great Wall of China, is even more impressive when blanketed in snow.
You can take a cable car up to one of the wall's many watchtowers for breathtaking views over the surrounding countryside.
Explore the Forbidden City
The majestic Forbidden City was once home to Chinese emperors and their families. Today, it's a fascinating museum that's well worth exploring, especially in winter when it's decorated for the festive season.
See Tiananmen Square
Tiananmen Square is another important cultural site in Beijing that's particularly atmospheric in winter. Nearby, you'll find the Temple of Heaven, a beautiful complex of religious buildings where ancient Chinese leaders used to pray for good harvests.
Stroll Around Beihai Park
Beihai Park is one of Beijing's largest and most popular parks, and it's especially beautiful in winter when its lakes are frozen over. You can hire skates and go for a spin on the ice or simply enjoy strolling around this tranquil oasis in the heart of the city.
Skate at an Outdoor Rink
Skating is a great way to have fun and get some exercise in the winter. There are several outdoor rinks in Beijing where you can skate, such as Ritan Park and Houhai Park.
Visit the Temple of Heaven
The Temple of Heaven is a historic site where the emperors of ancient China used to pray for a good harvest. It's especially beautiful in winter when it's decorated with traditional red lanterns.
See a Chinese Opera Performance
A Chinese opera is a unique form of theatre that combines music, dance, and drama. You can see a performance at one of Beijing's many theatres, such as the Liyuan Theatre or the Tianqiao Theatre.
Explore Hutongs on a Bicycle
Hutongs are traditional alleyways that were once common in Beijing. Today, they're a popular tourist attraction, and you can explore them by bicycle. Just be sure to dress warmly!
Conclusion
The answer to the question "does it snow in Beijing" is Yes, it does Snow in Beijing, but it appears that Beijing does not generally experience snowfall. If you want to see snow, you should go to a place like Harbin instead.
The average maximum temperature is around freezing, so any snow that does fall generally melts quite quickly. There have been some instances of snowfall in Beijing, but they are relatively rare.
Related Articles
FAQs: About Snow in Beijing
1. What Is the Average Amount of Snowfall in Beijing?
The average amount of snowfall in Beijing is about 6.9 inches (17.5 cm) per year. However, this number can vary greatly from year to year. In some years, Beijing may only receive a few inches of snow, while in other years, it may receive over a foot (30 cm).
2. When Does It Usually Start Snowing in Beijing?
The first snowfall of the season usually occurs in Beijing sometime in late November or early December. However, it is not unusual for there to be a light dusting of snow earlier in the month.
3. How Long Does the Snow Season Last in Beijing?
The snow season in Beijing typically lasts from December through February. However, it is not unusual for there to be a few flakes of snow as late as March or even April.
4. What Is the Coldest Temperature That Has Ever Been Recorded in Beijing?
The coldest temperature that has ever been recorded in Beijing was -21°F (-29°C) on January 13th, 1963. However, temperatures that are cold are very rare, and most winters will only see temperatures dipping down into the single digits or low teens (-12°C to -10°C).