Huntsville is a moderate-sized city in north Alabama in the United State. The city is located in the Appalachian Mountains. Huntsville has four distinct seasons, with two being the main: Summer and Winter. 
Summers are hot and humid, while winters are cold and dry. Winter weather in Alabama varies from region to region. But does it snow in Huntsville?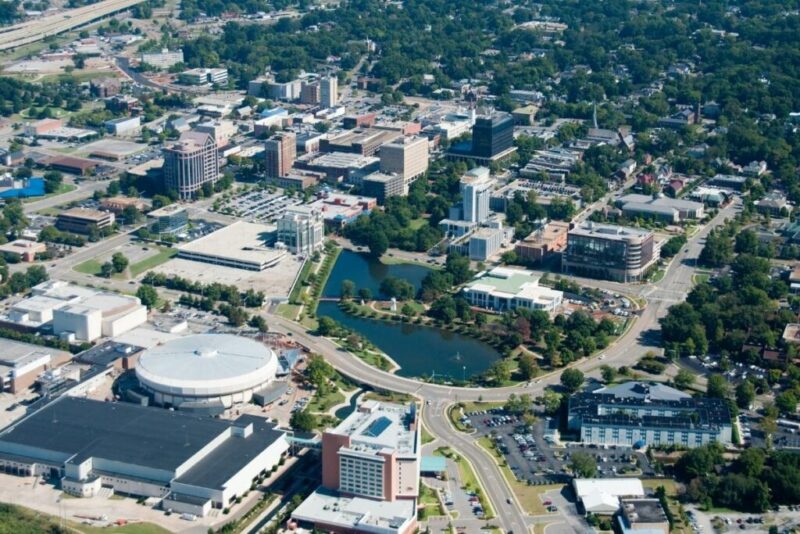 Does It Snow In Huntsville?
Yes, it does snow in Huntsville. The city gets an average of 2 inches of snow per year. However, Huntsville has experienced some very large snowstorms over the years in the past.
If you're looking for a frosty winter wonderland, Huntsville is not the place for you. In fact, this city sees very little snowfall – on average, only about 1-2 inches per year.
How Often Does It Snow In Huntsville?
While there isn't any one particular answer to this question, but we can look at historical data to get a general idea.  Huntsville sees, on average, about nine snow days per year. However, this number can vary greatly from year to year. from as low as three days to as high as twelve or fifteen days.
Looking at data from the past few decades, it seems that Huntsville has been getting more snow each year. But that doesn't mean it will continue to stay like that all the time, it is also possible that the town might see less Snowfall in some areas or more in others.
When Does it Snow In Huntsville?
Huntsville generally sees its first snowfall of the season in early to mid-December. However, it's not uncommon for snow to occur as early as November or as late as February.
The amount of snow that Huntsville receives each year varies widely, with some years seeing only a few inches and others getting more than a foot.
The Weather in Huntsville
Huntsville experiences a humid subtropical climate (Köppen Cfa) with two distinct seasons. The average monthly temperature ranges from 38.5 °F (3.6 °C) in January to 82.4 °F (28.0 °C) in July.
Huntsville sees snow each winter, on average. The month of February sees the most snowfall, with an average of 9.3 inches (23.6 cm). December and January follow closely behind, with 8.8 inches (22.4 cm) and 8.5 inches (21.6 cm) of snowfall, respectively.
Huntsville averages about 50 inches of rain per year, with much of it coming in thunderstorms in the spring and summer months. Huntsville also averages about 2 inches of snow per year, with most of it falling in December and January.
Snowfall accumulation typically occurs over several days, with heavy snowfalls followed by a thaw.
However, it is not uncommon for light dustings of snow to fall, even in spring and fall.
Things to Do in Huntsville in Winter
Huntsville is a great place to visit in winter. There are plenty of things to do, from skiing and snowboarding to ice skating and sledding. And if you're looking for a place to stay, there are plenty of hotels and restaurants to choose from.
Here are some of the best things to do in Huntsville in winter:
Go skiing or snowboarding at Snow Basin Resort.
Visit the Utah Olympic Park, where you can go tubing, bobsledding, and more.
Ice skating at the Galleria Mall.
Take a scenic sleigh ride through Powder Mountain Resort.
Visit the Huntsville Museum of Art to see their winter exhibits.
Conclusion: Does It Snow In Huntsville?
In conclusion, Yes, it does Snow in Huntsville, Alabama. While it does sometimes snow in Huntsville, the city usually only sees one or two inches of accumulation each year. However, because Huntsville is located in northern Alabama, there is a chance that the city might occasionally experience heavier snowfall.
So We suggest looking at the weather Forcast before Planning your trip there.
Happy Winters!