Crete is a large Greek island in the Mediterranean Sea. It is the southernmost island of Greece and the largest of the Dodecanese Island group.
Crete is a popular tourist destination, and it receives millions of visitors each year.
The island has a Mediterranean climate with hot summers and mild winters but does it snow in Crete? Let's find out!
Does It Snow In Crete?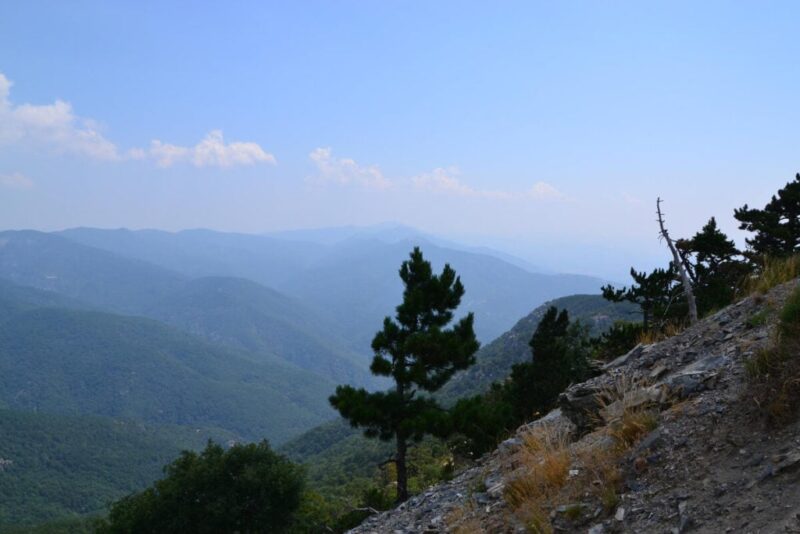 Yes, it does snow in Crete! Although the island is located in the Mediterranean Sea, its highest mountains are actually quite high (e.g., Mount Ida, which is 2456 m tall).
These mountains cause weather systems to cool down as they pass over Crete, which can lead to snowfall on the higher parts of the island (especially in winter).
The amount of snowfall varies from year to year, but it is not uncommon for there to be a few centimeters of snow on the ground in Crete during winter.
The Weather In Crete
The weather in Crete is very mild and pleasant for the majority of the year. The hotter months are from May until October when temperatures usually hover around 30°C (86°F).
November sees a drop in temperature, and by December, average highs are around 20°C (68°F). January and February are the coldest months of the year, with average highs of 16°C (61°F).
Although it does rain sporadically throughout the year, Crete generally has very little rainfall.
Snow is rare in Crete and usually only falls at high altitudes.
However, it is not unheard of for snow to fall at lower elevations, particularly in the north of the island. If you're hoping to see snow during your visit, the best time to go is December to February.
Where does it snow in Crete?
Crete is a large island in the Mediterranean Sea. It is the southernmost island in Greece and is about the same size as Luxembourg.
Crete has many mountains, with several having peaks over 1,700 meters (5,500+ ft). Due to its size, there is considerable variation in the climate across the island.
The north coast of Crete experiences a typical Mediterranean climate with warm summers and mild winters. However, the higher elevations of the island receive significant amounts of snowfall each year.
Although it rarely snows in Crete, the island experiences an average of four snowfalls each year.
What To Do In Crete In The Winter?
Crete is a Greek island that is popular among tourists for its sandy beaches and Mediterranean atmosphere. However, the island is also a great destination in the wintertime. Here are some ideas of things to do in Crete during the colder months:
Visit the ruins of ancient civilizations. The island was home to many different cultures throughout history, including the Minoans, Romans, and Venetians. There are many well-preserved ruins that can be visited, such as the Palace of Knossos and the Venetian Fortezza.
Explore the mountains. Crete is home to several mountains, including Mount Ida, which is the highest point on the island. There are numerous hiking trails that wind through forests and across rocky terrain. Snowfall is not common on the island, but if you're lucky enough to experience it, there are also opportunities for skiing and snowboarding.
Visit one of the many museums. There are several museums in Crete that focus on different aspects of its history and culture. The Archaeological Museum of Heraklion is a great option for those interested in learning more about the Minoan civilization. The Natural History Museum of Crete is also worth a visit, as it contains exhibits on the island's flora and fauna.
Enjoy the nightlife. Crete has a vibrant nightlife scene, with many bars and clubs staying open well into the early hours of the morning. If you're looking for somewhere to dance the night away, head to Platania in Heraklion or Malia Beach in Agios Nikolaos.
How To Get Around Crete In The Winter?
Although it rarely snows in Crete, the island can experience some cold weather and strong winds in the winter months. This can make getting around Crete a bit more challenging, but there are still plenty of ways to get around.
One option is to take the ferry from Athens to Heraklion. The journey takes about eight hours, but it is a relatively cheap and easy way to get to Crete. Once you are on the island, you can use public transportation or rent a car to get around.
If you are looking for a more direct route, you can fly to Heraklion Airport or Chania Airport. There are also a few smaller airports on the island, but they may be closed during the winter season. Once you arrive at your chosen airport, you can either rent a car or take public transportation to your final destination.
Tips for visiting Crete in the winter
Crete is a beautiful island in the Mediterranean Sea that is renowned for its sandy beaches, crystal-clear waters, and sunny weather. However, the island also experiences a winter season, which brings cooler temperatures and some rainfall. If you're planning a trip to Crete during the winter months, here are some tips to help you make the most of your visit:
Pack appropriately for the weather. The average temperature in Crete during the winter is around 14 degrees Celsius, so be sure to pack some warm clothes. It's also a good idea to bring an umbrella or raincoat, as there is often some rainfall during this time of year.
Check the weather forecast before you travel. This will help you plan your activities and pack accordingly.
Consider making a stop at one of Crete's many museums. These are indoor attractions that are perfect for days when the weather isn't cooperating.
Take advantage of the lower prices for accommodation and travel during this time of year. You'll find that many hotels and flights are significantly cheaper during the winter months.
Enjoy some of Crete's winter traditions, such as eating Greek Christmas cookies (karithopita) or attending a pantomime performance (manganas).