It's a common question asked by people from all over the world, "does it snow in Arizona?" The state of Arizona is located in the southwestern United States and covers an area of 113,990 square miles.
Because of its diverse geography, Arizona experiences a variety of weather conditions, including rainfall.
While the majority of the state is desert, with an average elevation of 4,000 feet above sea level, there are also mountain ranges that rise up to 12,000 feet.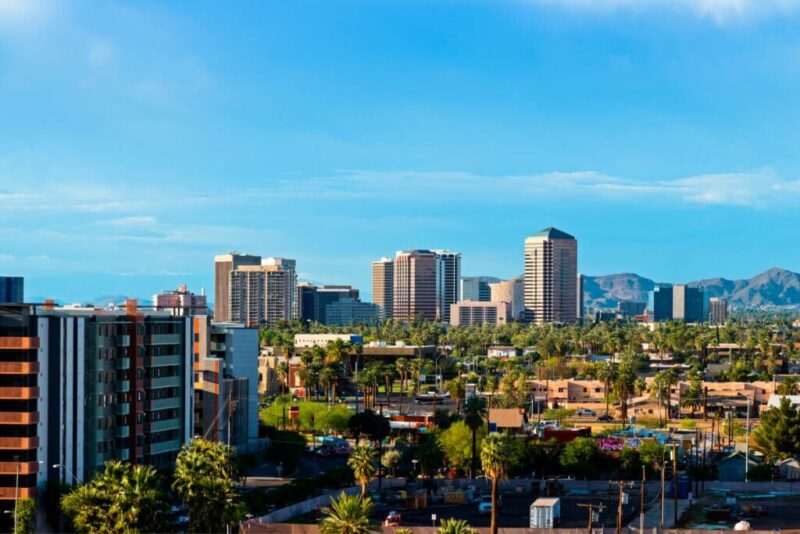 Does It Snow In Arizona?
Yes, it does snow in Arizona! While the state is better known for its hot desert climate, some of the higher-elevation areas do see snowfall every year. Arizona receives around 6 inches of snowfall a year in residential areas.
The most snow generally falls in the northern part of the state, near the border with Colorado.
The tallest mountain in Arizona is Humphreys Peak, which has an elevation of 12,633 feet. The mountains receive the most snowfall, with some areas averaging over 100 inches per year.
How Often Does It Snow In Arizona?
Although it does snow in Arizona, it is not a common occurrence. The state sees an average of around six inches of snow per year, with the vast majority of that falling in the northern regions.
The highest mountains in Arizona can see upwards of 100 inches of snow in a good year, but even those areas are not typically blanketed in the white stuff.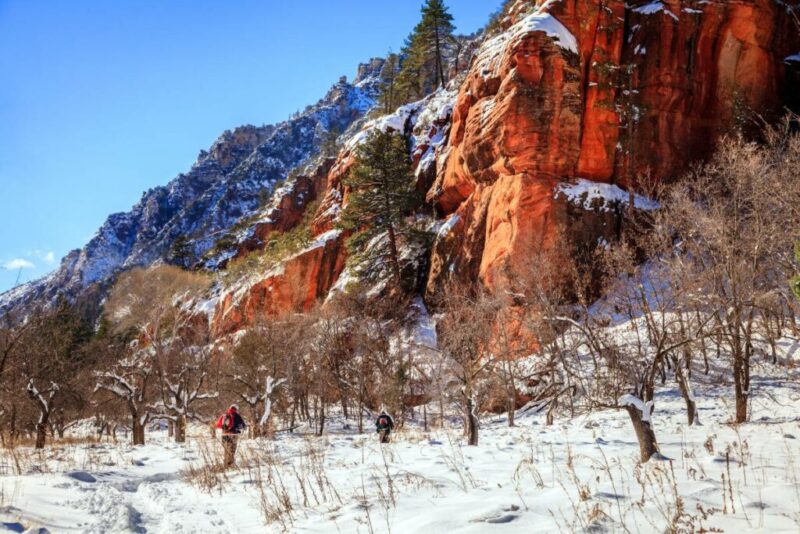 When Does it Snow In Arizona?
Although most people associate Arizona with hot, desert climates, the state actually gets snow every year. The amount of snowfall varies by location, but all parts of Arizona see at least some accumulation in a typical year.
Snow typically starts falling in northern Arizona in December, and the majority of the state sees snowfall by January.
The southernmost parts of Arizona may not see snow until February or March. Snow usually stops falling in Arizona in April or May.
If you're hoping to build a snowman or go sledding while you're in Arizona, you'll have the best luck in the higher elevations of the state. Places like Flagstaff, Sedona, and the Grand Canyon tend to get more snow than lower-lying areas like Phoenix and Tucson.
The Seasons in Arizona
Arizona has four very distinct seasons: winter, spring, summer, and fall. Each season brings its own unique weather conditions and activities to enjoy.
Winter in Arizona is relatively mild, with temperatures averaging in the mid-50s. However, snow is not uncommon in the northern parts of the state, particularly in the mountains. Skiing and snowboarding are popular winter activities in Arizona.
Spring is a beautiful time of year in Arizona. The temperatures start to warm up, making it perfect for hiking and other outdoor activities. The desert starts to bloom with wildflowers, adding a splash of color to the landscape.
Summer is the hottest time of year in Arizona, with temperatures often exceeding 100 degrees Fahrenheit. It's important to stay hydrated and take breaks from the heat if you plan on spending any extended period of time outdoors.
Fall is another great time for hiking and enjoying the outdoors. The temperatures start to cool off, making it more comfortable to be outside for extended periods of time. Fall is also the perfect time to enjoy a pumpkin spice latte and take in the changing leaves!
What Are the Most Popular Things to Do in Arizona in Winter?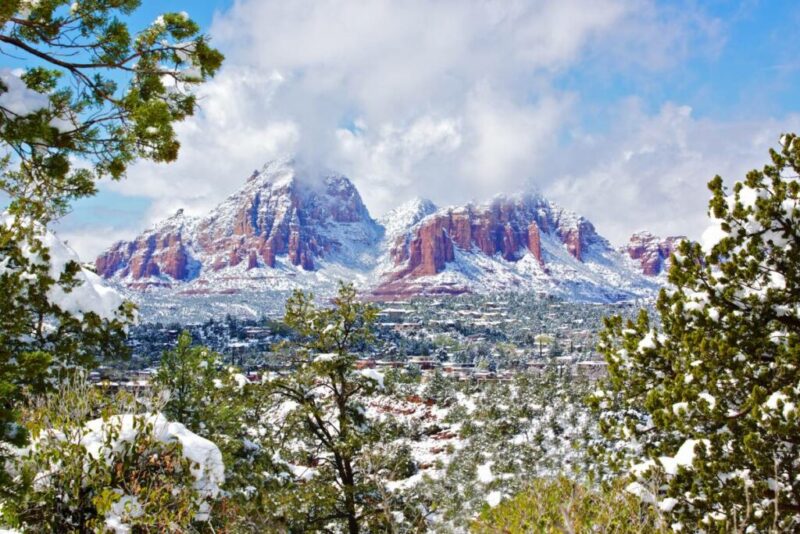 Just because it doesn't snow in most of Arizona, that doesn't mean there aren't plenty of winter activities to enjoy in the Grand Canyon State.
From playing in the snow to stargazing, here are some great things to do in Arizona during the winter months.
Visit Snowbowl in Flagstaff
Hike to Havasupai Falls
Explore Sedona's Red Rocks
Stargaze at Kartchner Caverns State Park
Take a Scenic Drive through Sedona
Snowboarding and skiing at Arizona Snowbowl
Visit the Grand Canyon
Hiking in Jerome
Biking in Prescott
Conclusion
In conclusion, it does snow in Arizona, but not enough to stay on the ground for a long. If you're looking to experience a true winter wonderland, you'll have to head elsewhere.
Related Articles
FAQs: About Snow in Arizona
What Is the Percentage of the Time It Snows in Arizona?
There is no definitive answer, as snowfall in Arizona depends on a variety of factors, including elevation and location. However, according to the National Weather Service, the chance of measurable snow (defined as at least 0.1 inches) in Arizona ranges from about 20 to 40 percent.
What Are Some of the Most Popular Places to Snowboard or Ski in Arizona?
Some of the most popular places to snowboard or ski in Arizona include Flagstaff, Sedona, Prescott, and the White Mountains. There are also a number of resorts that offer skiing and snowboarding, such as Sunrise Park Resort and Snowbowl.
When Does It Typically Start Snowing in Arizona?
Again, there is no definitive answer, as snowfall in Arizona can occur anytime between October and May. However, the majority of snowfalls typically occur between December and February.
How Much Snow Does It Usually Snow in a Year in Arizona?
The average snowfall in a year is 6 inches.
What Are the Coldest Months in Arizona?
The coldest months are December, January, and February, when the average temperature is around 40 degrees Fahrenheit.
Is It Ever Too Cold to Snow in Arizona?
No, it is not too cold to snow in Arizona. It has been known to snow as low as 20 degrees Fahrenheit.